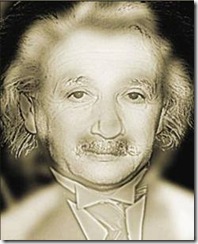 Look at this picture up close and you see Albert Einstein.
Now step back 15 feet.  What do you see?
That's right: Marilyn Monroe!
Someone once said they wish their prototype lover had Einstein's brain and Monroe's looks – maybe that has not been found, but here you have one with both looks!
related posts
"The world will not be destroyed by those who do the evil but by those who see it but do nothing about it…" -Albert Einstein

Peter Samuelson is one of those rare living angels who rove the earth, who never forget to treat every human being with respect, who always try to help make others better beings and better off, and daily, constantly innovating to fight suffering.  He inspired a lot of great quotes worthy of sharing. Peter's "profession" is [...]