PeaceWorks Selected by BusinessWeek among 'America's Most Promising Social Entrepreneurs'
We are honored that BusinessWeek chose PeaceWorks among 25 of "America's Most Promising Social Entrepreneurs."
If you like what we do, we'd appreciate you voting here for us – PeaceWorks Holdings – as the top 5 will be featured in the magazine.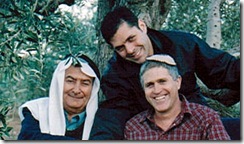 http://images.businessweek.com/ss/09/04/0403_social_entrepreneurs/19.htm
Peaceworks Holdings
peaceworks.com
Daniel Lubetzky, 40
New York, N.Y.
Can joint business ventures end violence and fundamentalism in the Middle East and other hot spots around the world? Stanford Law School grad Daniel Lubetzky is proving they can. He hit on the idea for his "not-only-for-profit" business model while on a fellowship in Israel in 1993. A year later, he launched a joint venture between Israelis and Palestinians, a line of all-natural tapenades and spreads under the labels Moshe & Ali's and Meditalia. which we first wrote about last year. More recently, PeaceWorks introduced Bali Spice, a line of Asian sauces manufactured by women's cooperatives made up of Muslims, Christians, and Buddhists in Indonesia and Sri Lanka. "I try to create business and social models that work intrinsically well together where the business itself advances a social cause and vice versa," says Lubetzky. Four years ago, he also introduced Kind Fruit & Nut Bars, a for-profit venture.
From the beginning, Lubetzky has plowed 5% of his profits from his companies into the Peaceworks Foundation to empower moderate Israeli and Palestinian voices who want to work toward a two-state solution in the Middle East. In 2008, Peaceworks Holdings had about $15 million in revenue and became a Skoll Foundation grantee. Next year, Lubetzky expects to bring in between $25 million and $30 million.
They also quote the following in their main story:
One of this year's finalists, Daniel Lubetzky, founder of $25 million Peaceworks, which works as a catalyst for peace by encouraging joint snack-food ventures among people of different backgrounds in volatile regions around the world, says it is not enough to impose an artificial business model on a social issue. Lubetzky, who was awarded a $1 million grant from the Skoll Foundation in 2008, says that doing good alone will not ensure success. "I had an earlier company that totally tanked," he says. "I didn't understand the product line well, but I was passionate about the mission. The failure taught me that one can't advance a social mission if the business model doesn't sell. You can't just sell a social mission. You still have to come up with the best product with the best prices." Given the current economic climate, that rings particularly true.