About Van Jones and Partisan Politics
Very few people in my life have struck me as much as Van Jones for being as exceptionally inspiring, as extraordinarily sincere in their commitment to help improve the lot of others, and as leaders with such well rounded qualifications as Van's.
Van is a fellow "Young Global Leader" from the World Economic Forum and the subject of a Skoll/Sundance "Stories of Change" documentary.  I have known him for many years in very intimate settings, including in international settings where someone else could have been negative about the US or extreme in some sense, but this was never the case with Van Jones.
Van is all about positively inspiring others – and he does that like few others.  There is not one bone in Van that is not authentic.
His resignation from the US Administration today – apparently provoked by dirty partisan politics – is a sad step for all Americans.  He had been appointed as the "Green Czar" with a brilliant concept of tackling two problems at once with an entrepreneurial solution: overcome disenfranchisement and unemployment of inner-city youth, and address climate change challenges and lack of US competitiveness in the green industry by building programs that train young people with green manufacturing and green industry skills.
Whoever engineered these silly attacks may have won a battle but will lose the war: Van will not be stopped from doing great work for America and the world, and this forced attention at least puts a spotlight on an extraordinary public leader that deserves our support.
People ask me why I hate partisan politics – this is Exhibit #1.

Obama did not order Van Jones' resignation, adviser says
WASHINGTON (CNN) — The resignation of Obama administration figure Van Jones, following controversies over a petition he had signed and his comments about Republicans, did not come at the request of the president, the White House senior adviser said Sunday.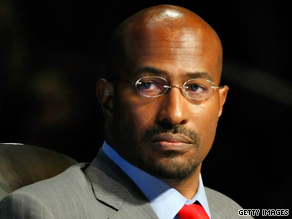 Van Jones attends the National Clean Energy Summit in Las Vegas, Nevada, in August.
"Absolutely not — this was Van Jones' own decision," David Axelrod told NBC's "Meet the Press" when asked if the president had ordered the resignation.
The chairman of the House Republican Conference, Rep. Mike Pence of Indiana, had called for Jones to resign or be fired.
"I think Van Jones did the right thing," Pence said Sunday about the resignation. "His extremist views and coarse rhetoric have no place in this administration."
Jones has frequently been dubbed a "green-jobs czar" for the administration.
"The president should suspend any future appointment of so called czars while the administration and the Congress carefully examines the background and qualifications of the more than 30 individuals who've been appointed to these czar positions," said Pence, speaking to reporters. "And the Congress ought to initiate a thorough inquiry into the constitutionality of this practice which has spanned Republican and Democrat administrations."
In a statement Saturday night, the White House said Jones was giving up his post at the Council on Environmental Quality, where he helped coordinate government agencies focused on delivering millions of green jobs to the ailing U.S. economy.
"On the eve of historic fights for health care and clean energy, opponents of reform have mounted a vicious smear campaign against me," Jones said in the statement. "They are using lies and distortions to distract and divide."
Adding that he came to Washington to "fight for others, not for myself," Jones said in the statement, "I cannot in good conscience ask my colleagues to expend precious time and energy defending or explaining my past. We need all hands on deck, fighting for the future."
The decision followed an uproar over a petition Jones signed in 2004 calling for an investigation into whether government officials deliberately allowed the September 11, 2001, terrorist attacks to occur.
In a statement last week, Jones said of the petition on the Web site 911truth.org: "I do not agree with this statement and it certainly does not reflect my views now or ever."
An administration source said last week that Jones had not carefully reviewed the language in the petition before signing.
Jones has also come under fire for comments he made, also before his White House job, including those in a video that can be seen on YouTube. In it, he uses a vulgar expression to describe Republicans.

Watch what Jones called Republicans »
In 2005, Jones was quoted in the East Bay Express as describing the impact that the acquittals in the police beating case of Rodney King in 1992 had on him. "By August, I was a Communist," he says in the article, describing his sense of radicalization at the time.
In his statement last week, Jones said, "If I have offended anyone with statements I made in the past, I apologize."
One of the most prominent conservative voices condemning Jones in recent days has been FOX TV host Glenn Beck.
Jones is a co-founder of colorofchange.org, a group that recently has been pressing advertisers to boycott Beck's program after Beck called Obama a racist.
Colorofchange.org lists Jones as "inactive." He has not been involved with the group's recent efforts.
Though the controversies have taken center stage, Jones was previously known primarily for his environmental work. In May, he won the praise of former eBay CEO Meg Whitman, a Republican candidate for governor in California.
"I am a big fan. He's done a marvelous job," she says in a video on the San Francisco Chronicle's Web site.
Whitman now says she did not know Jones well and that he holds views she rejects.
Axelrod said Jones "is internationally known as an advocate for green jobs and that's the basis on which he was hired." He stepped down so that his previous comments would not distract from critical issues the administration is dealing with, and "I commend him for making that decision," Axelrod added.
Asked whether Jones was the victim of a smear campaign, Axelrod did not say either way, but did say "the political environment is rough, and so, you know, these things get magnified."
On ABC's "This Week," White House spokesman Robert Gibbs said Obama does not endorse the controversial actions by Van Jones from before he joined the administration, but added that Obama thanks Jones "for his service to the country."
Last week, when asked whether Obama still had confidence in Jones, Gibbs would only say that Jones continued to work for the administration. The response was considered a signal that Jones might have to step down.
A prominent Democratic strategist argued Sunday that Jones' departure is a sign of Republican efforts against Obama.
"This administration has the potential to be FDR or Jimmy Carter and I think the Republicans are going to do everything they can to make him Jimmy Carter, to create a failed presidency," Joe Trippi said on CNN's "State of the Union."
Republican strategist Ed Rollins disagreed. "Presidents don't come down by what the opposition party [does] — and that's what we are," he said.
related posts
This article from the Christian Science Monitor summarizes pretty well the political developments that have for now kept the current Israeli parliamentary coalition afloat. Instead of recriminations and fights for personal political advancement, for once these considerations were borne in mind: …it's not as if we don't have a few other things to keep us [...]