The best and worst of the bar options, according to SHAPE Magazine
SHAPE Magazine recently reviewed the nutrition bar category to inform its readers of the best and worst nutrition bars.  KIND was highlighted as one of the best, while other bars, such as ThinkThin, Balance, and Powerbar, were disapproved for using unnatural ingredients, and for having low fiber content and high use of added sugars. 
Good Morning America Health also covered this story, echoing SHAPE's stance that KIND's nutrition attributes are superior.  Check it out below!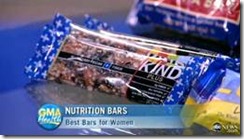 Spotted by Daniel Lubetzky, by Adeena Schlussel