The Windy City Catches Wind of KIND…En Español
KIND team member Jenny Busby tells Univision Chicago about the KINDness sweeping through the windy city. For those who don't speak lingo, here are some subtitles:
The KIND team rallied Chicagoans to participate in August's KINDING mission of donating clothing to a local shelter or someone in need. Thanks to the thousands of KINDAHOLICS who participated in this mission, KIND is partnering with the Kyle Korver Foundation to provide school uniforms to Chicago students who would otherwise not be able to afford them.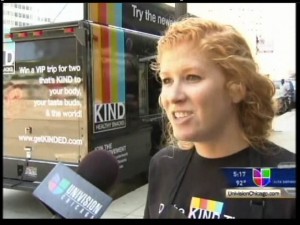 Spotted by Daniel Lubetzky, by Julianna Storch