OK, I acknowledge that I am a bit obsessed with our veggie garden…
…but we are just having so much fun picking tomatoes, cucumbers, basil, and the rare carrot from our garden. The kids love eating the tomatoes and the cucumbers now that they harvested them themselves. And it is just amazing to see what we are yielding. 
I thought that last week would be the peak with over 50 tomatoes and 10 cucumbers. Today we harvested over 20 cucumbers and 80 tomatoes, not counting about 10 tomatoes we lost to critters who bit into the ripest ones – lesson learned: we need to pick them as soon as they start turning red.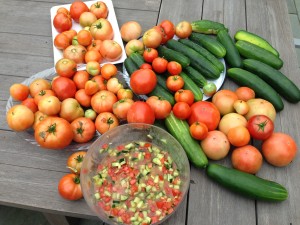 Addendum: on Sunday we picked another 4 huge cucumbers, 4 nice carrots and 49 tomatoes!!!
related posts
Something about growing your own veggies makes them so much tastier when you eat them. We grew these gigantic cucumbers and the boys and I were eating them last week and will do again next week, just whole, as a snack. They are crunchier, tastier, they just feel so fresh, so real, and so ours. [...]

Nice example of grassroots social entrepreneurship to help the poor – follows the biblical tradition of sharing some crops with the poor, with a twist. September 14, 2008 Food Banks Finding Aid in Bounty of Backyard By PATRICIA LEIGH BROWN BERKELEY, Calif. — Natasha Boissier did not expect an epiphany while pushing her baby's stroller [...]