How Qatar is funding the rise of Islamist extremists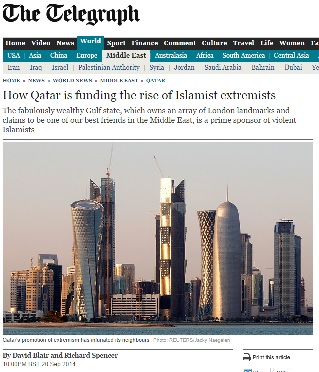 By David Blair and Richard Spencer 10:00PM BST 20 Sep 2014
Few outsiders have noticed, but radical Islamists now control Libya's capital. These militias stormed Tripoli last month, forcing the official government to flee and hastening the country's collapse into a failed state.
Moreover, the new overlords of Tripoli are allies of Ansar al-Sharia, a brutal jihadist movement suspected of killing America's then ambassador to Libya, Christopher Stevens, and of trying to murder his British counterpart, Sir Dominic Asquith.
Barely three years after Britain helped to free Libya from Col Gaddafi's tyranny, anti-Western radicals hold sway. How could Britain's goal of a stable and friendly Libya have been thwarted so completely?
Step forward a fabulously wealthy Gulf state that owns an array of London landmarks and claims to be one of our best friends in the Middle East.
Qatar, the owner of Harrods, has dispatched cargo planes laden with weapons to the victorious Islamist coalition, styling itself "Libya Dawn".
Western officials have tracked the Qatari arms flights as they land in the city of Misrata, about 100 miles east of Tripoli, where the Islamist militias have their stronghold. Even after the fall of the capital and the removal of Libya's government, Qatar is "still flying in weapons straight to Misrata airport", said a senior Western official.
So it is that Qatar buys London property while working against British interests in Libya and arming friends of the jihadists who tried to kill one of our ambassadors. A state that partly owns 1 Hyde Park, London's most expensive apartment block, and the Shard, the city's tallest building, is working with people who would gladly destroy Western society.
A view of the Shard and the city
The remarkable truth is that few in the Middle East would be shocked. From Hamas in the Gaza Strip to radical armed movements in Syria, Qatar's status as a prime sponsor of violent Islamists, including groups linked to al-Qaeda, is clear to diplomats and experts.
Qatar's promotion of extremism has so infuriated its neighbours that Saudi Arabia, Bahrain and the United Arab Emirates all chose to withdraw their ambassadors from the country in March.
Take Syria, where Qatar has been sponsoring the rebellion against Bashar al-Assad's regime. In itself, that policy places Qatar alongside the leading Western powers and much of the Arab world.
But Qatar has deliberately channelled guns and cash towards Islamist rebels, notably a group styling itself Ahrar al-Sham, or "Free Men of Syria". Only last week, Khalid al-Attiyah, the Qatari foreign minister, praised this movement as "purely" Syrian.
He added that its fighters had suffered heavy losses while combating the Islamic State of Iraq and the Levant (Isil), the group behind the murder of David Haines, the British aid worker, and which is holding John Cantlie and Alan Henning hostage.
Far from being a force for moderation, Ahrar al-Sham played a key role in transforming the anti-Assad revolt into an Islamist uprising. Its men fought alongside Jabhat al-Nusra, an al-Qaeda affiliate, during the battle for Aleppo and they were accused of at least one sectarian massacre.
Instead of fighting Isil, Ahrar al-Sham helped the jihadists to run Raqqa, the town in eastern Syria that is now the capital of the self-proclaimed "Caliphate". This cooperation with Isil happened for some months until the two groups fell out last year.
Last December, the US Treasury designated a Qatari academic and businessman, Abdul Rahman al-Nuaimi, as a "global terrorist". The US accused him of sending nearly £366,000 to "al-Qaeda's representative in Syria", named as Abu Khalid al-Suri.
Suri has also been a senior commander of Ahrar al-Sham. If America was right to describe him as "al-Qaeda's representative", then there was an overlap between the leadership of the two groups.
Mr Nuaimi is also accused by the US treasury of transferring as much as $2 million per month to "al-Qaeda in Iraq" and $250,000 to al-Shabaab, the movement's affiliate in Somalia. Mr Nuaimi denies the allegations, saying they are motivated by his own criticism of US policy.
Abdul Rahman al-Nuaimi
But critics question why Qatar has failed to act against him. "It's deeply concerning that these individuals, where sufficient evidence is in place to justify their inclusion on the US sanctions list, continue to be free to undertake their business dealings," said Stephen Barclay, the Conservative MP for North East Cambridgeshire.
Qatar's investment in Britain is so extensive, and the Foreign Office is so anxious to win its favour, that some question whether UK diplomats will have the resolve to ask robust questions. "If diplomats are focused on winning commercial contracts, there is a danger they will be reluctant to ask tough questions on the funding of unsavoury groups," said Mr Barclay.
A Foreign Office spokesman insisted there was no such risk, saying: "We encourage further progress to prevent terrorist financing from individuals in the [Gulf] region. We have honest and robust conversations with all our Gulf partners on these issues, including Qatar."
One diplomat from a country in the Middle East said Jabhat al-Nusra had been a beneficiary of Qatar's help for a period last year. "They are partly responsible for Jabhat al-Nusra having money and weapons and everything they need," said the diplomat.
There was no evidence of Qatar's largesse going directly to Isil, he added, but this could have taken place by accident rather than design. "I don't think they have any intention to support Isil, but it's a fact they did support Jabhat al-Nusra. And some people moved from Jabhat al-Nusra and went over to Isil and they took their weaponry with them," added the diplomat.
Four branches of the Qatari government handle relations with armed groups in Syria and Libya: the foreign ministry, the defence ministry, the country's intelligence agency, and the personal office of the ruler, Emir Tamim bin Hamad al-Thani.
In the case of Syria, Qatar's chosen method for supporting its favoured insurgents is to pass large sums to middlemen in Turkey. These figures then use the money to buy weapons from third countries, notably Croatia, and arrange for their onward transfer to rebels in Syria.
Experts question how much control Qatar has over this process and whether the middlemen might be pursuing their own aims and pocketing much of the money.
"Qatar was handling weapons and supplies for Syria, but they were never really keeping a full grip on the nature of the conflict," said Michael Stephens, the deputy director of the Royal United Services Institute's office in Qatar. Others believe that Qatar was acting very deliberately.
Last month, Gerd Müller, the German international development minister, implicated Qatar in the rise of Isil. "You have to ask who is arming, who is financing Isil troops. The keyword there is Qatar," he said.
Yet a state endowed with large reserves of gas and oil and one of the world's biggest sovereign wealth funds can wield immense influence, even over Berlin. Qatar was duly able to secure a formal withdrawal of this charge from the German government.
On Wednesday, the 34-year-old Emir of Qatar, who was educated at Harrow and Sandhurst, took pains to deny the accusation while standing alongside Angela Merkel, the German Chancellor. "What is happening in Iraq and Syria is extremism and such organisations are partly financed from abroad, but Qatar has never supported and will never support terrorist organisations," he said.
The credibility of that denial depends partly on how you define a "terrorist organisation". Qatar has let Hamas, the armed Palestinian movement, base its political leadership in Doha since 2012. Qatar's government has funded Hamas and the previous Emir paid an official visit to the Hamas-ruled Gaza Strip in 2012.
As a small country with relatively weak armed forces and 250,000 citizens, Qatar is trying to guarantee its security by reaching in every direction. As well as providing an office for Hamas, Qatar also hosts the forward headquarters of US Central Command and the al-Udeid military airbase, serving as the hub for all American air operations in the region.
Qatar has not completely ignored the concerns of its Western allies. When it transferred surplus arms from Libya to rebels in Syria, Qatari officials weeded out any surface-to-air missiles, in obedience to America's demand to prevent the supply of this particular category of weapon.
But Qatar's willingness to support extremists has caused private dismay. "It's a puzzle and, to be honest, it's a distasteful one," said a former Western official who has dealt with Qatar.
"There are people around the Gulf who are supporting people who are grotesque in their values and seem incapable of translating it into their minds how grotesque it is."