On the many mistakes that led to KIND Snacks' success
Reflecting on the mistakes I've made along the way and the lessons I've learned from them.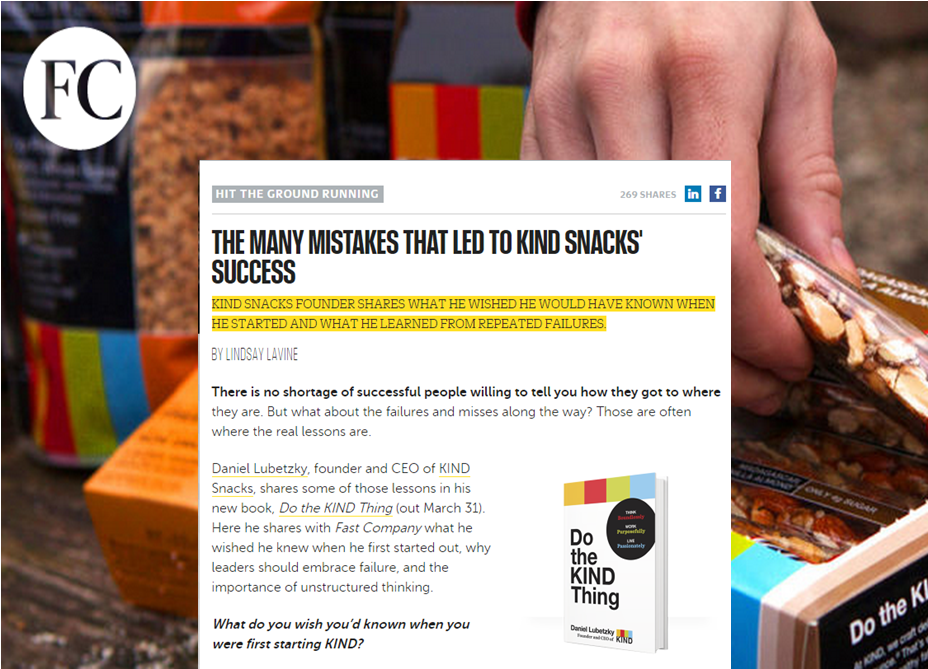 What do you wish you'd known when you were first starting KIND?
I wish I had better understood patience as a virtue. In the early days, I, like many entrepreneurs, was hungry for growth and determined to do anything to make KIND succeed. But I soon learned that lack of focus or discipline can lead you to waste your time, effort, and money. I wish I had known that every rejection, and what I learned as a result, would be more valuable to me in the long run than any success. Time and again, rejection has been a motivator for me and the team, pushing our creativity and critical thinking skills to new limits.
I wish I had understood the benefits of product sampling. In the early days, sampling was a missing piece of my strategy because I viewed it as an expense rather than an investment. Around 2009, I finally realized that, given our products' high quality and taste, letting people try KIND bars was the best way to build awareness. We expanded our sampling budget and the brand has grown fast and furiously since then.
In your new book, you openly discuss past failures. Why did you write the book, and were you concerned how "putting it all out there" would be perceived?
In writing this book, I realized just how little I knew when I started; fortunately, I had many great mentors along the way. Do the KIND Thing is my way of giving back to the next generation of entrepreneurs, and anyone eager to learn from the experiences and failures of others. Failures [are] growth opportunities. [They] provide permission to team members—and yourself—to reflect when mistakes are made and speak openly about what you've learned from them. Failures not only hold the seeds for the greatest lessons, but also are the best ways to transmit those lessons, which is why I share my own so vividly.
Why should leaders embrace failure?
It's important for leaders to actively look for areas where they fall short, even when they're succeeding. Something that I am acutely aware of now is that fast growth can hide a lot of weaknesses and deficiencies. If you're attuned to your business and actively identifying mistakes as you grow, you'll be better equipped to build a sustainable enterprise.
Celebrating lessons learned from failure not only affects your own evolution as a leader, but it also affects your culture and the way your team works and thinks. At KIND, it has helped us build a culture of risk taking and introspection, where we challenge ourselves to think critically and question every decision anew. Maybe most importantly, as a leader, failures keep you grounded. They remind you that you can always do better.
What did you learn from early setbacks?
With KIND, we were creating a whole new category of products so there were many early setbacks. For example, we had to convince food-store buyers that our products filled a need consumers didn't even know they had. Consequently, early buyers didn't know what section of the store to put us in. Eventually, we helped pioneer a whole "healthy snack bar" section within the grocery area, but that didn't happen overnight.
The KIND bar [production] brought its own challenges. We initially made small batches by hand and laid out the finished product in baking trays to dry. Then we'd cut every bar individually. It was a labor of love, expensive and inefficient. We tinkered with every aspect of operations until each step worked. Our arduous manufacturing process is the result of thousands of trial-and-error hours.
What advice would you give to your younger self?
To take one hour out of every day to let my mind go. Blocking time for unstructured thinking is critical, no matter if you're an early stage entrepreneur or a seasoned CEO. Pushing myself to ask tough questions like, "What are the underlying assumptions that are limiting me?" has better enabled me to visualize and forge a path to success.
[It's also] okay to not have all the answers—and, sometimes, the journey itself might actually be the answer. In retrospect, the inexperience and lack of understanding I had in the early days building KIND worked to my advantage, because I was somewhat unaware of the obstacles I was going to have to overcome. A logical human being might have given up, but I persevered because I didn't know any better—and it eventually paid off.