Isaac Herzog's Promise
Mar 17, 2015
Published under Israel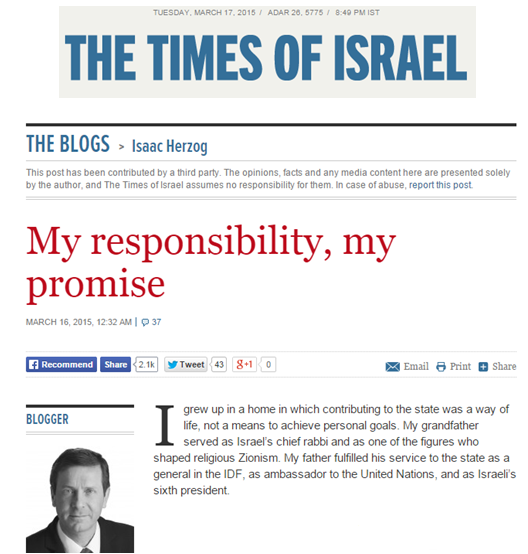 When you grow up in a home like mine, you naturally want to continue in this vein. So I did military service as an officer in the intelligence unit 8200, I served as chairman of the Israel Anti-Drug Authority, and, in the political realm, served as cabinet secretary, member of Knesset, and as minister.
I have always been an optimist. Even during the most difficult periods I chose to focus on the light at the end of the tunnel. But in recent years I have seen how this light has gotten steadily weaker, fading away. I have watched as our key values have disappeared from the national and social lexicon, values like taking care of each other, solidarity, compassion, personal responsibility – and hope.
In the last three months, I have seen hope return. I met hundreds of thousands of people who are passionate and highly motivated, who have despaired of this government but did not despair of the opportunity to change it.
Today, this hope – Hatikva – has been rekindled in the hearts of everyone: among the nurses at Soroka Hospital and the senior citizens in Beit She'an, among the students at Blich High School in Ramat Gan, and among the vendors and customers at Felafel Golani in Afula. The hope has been reborn in many thousands of disappointed Likudniks who have found their new home with us.
The winds of change are blowing from north to south. In the cities, in the development towns, in the villages and in the kibbutzim. These winds herald a massive shift, from a path fraught with setbacks to one of achievements and a new reality.
Bibi failed to find solutions to the housing crisis and to the cost of living. He failed in the fight against terrorism and in curbing Iran's nuclear program. He fought our allies instead of our enemies and brought us unprecedented international isolation. He abandoned us, the citizens, and dealt with only one thing: ensuring his political survival. And worst of all: Bibi robbed us of hope.
I promise that in the first 100 days of a government that I lead, we will establish a new leadership that will stand ready to serve you. A leadership that will take responsibility – and not cast it off onto others. I pledge to take personal responsibility for problems relating to the home, the pocket, and to our shared future.
I will set up a national housing cabinet and I will sit at its head in order to ensure affordable housing. We will put an end to the national shame of poverty among the elderly, and we will heal and strengthen our health and education systems. I will repair our relations with the United States and I will harness our alliances to stop Iran's nuclear program. At the same time, I will make every effort to restart the peace process, while uncompromisingly maintaining Israel's security interests.
Together with my partner, Tzipi Livni, and our team – which combines young but experienced candidates with veteran yet enthusiastic and determined candidates – I will return Israel to what it once was: a strong, prosperous, respected, confident and courageous society.
This is the last chance. This time, we will let go of the fear and despair, and of those who sow fear and despair amongst us. Whoever wants change must vote for the Zionist Union. Every vote for another party is a vote that could leave Bibi in power.
Give me the chance and I will prove that there is another way. That is my responsibility, and my promise to the people of Israel.
related posts
As I compete against Benjamin Netanyahu in Israel's 2015 elections, I am as committed to the bipartisan approach as my father and Israel's other founding fathers and mothers were — for example, David Ben-Gurion, Levi Eshkol, Golda Meir, Yitzhak Rabin, Menachem Begin and Shimon Peres. That is why I strongly believe that Mr. Netanyahu's planned [...]