Meet our New and Exciting KIND Healthy Grain Bar flavors!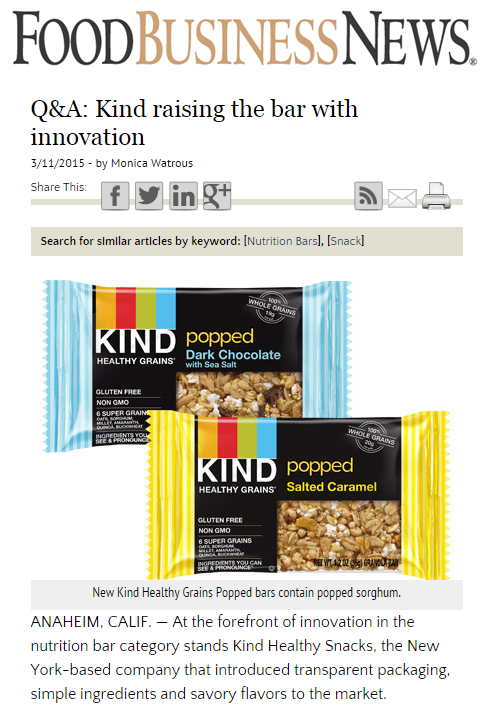 The latest launches from the snack bar maker include Kind Healthy Grains Popped granola bars, featuring popped sorghum, plus gluten-free oats, millet, quinoa, amaranth and buckwheat. Available in salted caramel and dark chocolate with sea salt flavors, the line debuted at Natural Products Expo West, held March 5-8 in Anaheim, alongside three other Kind Healthy Grains varieties: peanut butter berry, caramel macchiato and dark chocolate mocha.
The company began with eight bar varieties in 2004 and has grown to 39 bars and eight granolas, featuring such ingredients as whole nuts and seeds, fruit, dark chocolate, honey and whole grains.
During the show, Jon Lesser, director of marketing, and Joshua Nafman, senior director of brand marketing and digital, sat down with Food Business News to discuss the new products, the savory Strong & Kind line that launched at last year's Expo West, and insights behind Kind's trailblazing innovation.
Food Business News: What inspired the new products?
Jon Lesser: What we really want to market with this suite of innovations is "a super grain twist on your favorite classics." We're really trying to hit on those flavors that we know consumers love, but do it in a Kind way.
We're launching a new line we're calling Popped. We've taken a sixth super grain and added it to the mix. It's sorghum, which when you pop, tastes and looks like a little popcorn. And so that freed us up to hit on new flavor profiles that we haven't previously been able to do.
How was it discovered you could pop sorghum and put it in a bar?
Mr. Lesser: I think a lot of our innovation comes from our own creativity and just thinking about how we can treat ingredients differently and really deliver something magical for the consumer. So, this is one that one of our food scientists knew that you could pop sorghum.
When I first tried it, she had brought this little mini popcorn to my desk just as standalone in a bag, and she said, "Taste this."
I said, "It tastes like popcorn, it looks like it sort of is." And she said, "No, it's sorghum. A super grain."
And sorghum lets you keep your gluten-free and non-G.M.O. claims.
Mr. Lesser: This is another non-G.M.O. grain, another gluten-free grain. So it's still building that credential in the granola bar category, which is predominantly not gluten-free.
How did the new coffee line come about?
Mr. Lesser: We really wanted to deliver indulgence to the consumer in this space but do it with real ingredients that consumers know. So we were able to take real coffee and deliver those "super grain twists on the coffeehouse classics," as we like to say.
The bars contain caffeine?
Mr. Lesser: There is a very minimal amount of caffeine. That's one we looked at and knew we wanted to have the real ingredient, and to do that, it has 5 mg of caffeine, which is about equal to or less than a decaf cup of coffee. Being Kind, we do want to make sure we're communicating everything to consumers, so on the side of the packaging we do indicate there is a small amount of caffeine in that so we don't encourage kids to eat this product.
Why not add more caffeine and market it as an energy bar?
Mr. Lesser: We looked at it but didn't feel we could stay true to the Kind principles and keep the ingredients at the right level to deliver on the taste and texture profile that we wanted. It would be very, very bitter.
We want to delight the consumer from an ingredient standpoint and a taste standpoint and a nutritional standpoint, so we didn't try to do something outside of our ethos to deliver energy, necessarily.
The Strong & Kind line is sort of an anomaly in the bar category, in that its flavors are savory. How was that product line developed?
Joshua Nafman: With the Strong & Kind line, we had been getting a lot of feedback from consumers and also internally that there's definitely a saturation of sweet flavors in the bar category, and we thought that savory would be something fantastic to achieve there for people who reach for the more savory flavors on a regular basis, like choosing a pizza over a piece of cake, for instance.
Also, we're matching up really well against crackers, potato chips, beef jerky, because it is more filling. We describe it as a mini meal.
Was there any concern consumers may reject the idea of savory bars?
Mr. Nafman: There's always a challenge when a new product comes out, but we're seeing continuous growth, and when people try the product, they're genuinely surprised. "That's not what I was expecting." But it's always in a positive way. They love the product once they try it.
The savory bar category is definitely growing, and we're definitely the pioneers of that.
The Strong & Kind line runs the flavor gamut, with honey smoked barbecue, honey mustard, Thai sweet chili, hickory smoked, and roasted jalapeno varieties. How did your team decide on those particular flavors?
Mr. Nafman: The flavors were decided from what we've seen as established flavor profiles… so we match up our honey barbecue with a barbecue potato chip. I like to say our honey mustard is comparable to a honey mustard pretzel. So that gives people a point of reference. We quickly give them something relatable that we know they love already.
So, these bars were developed to take share from other snack categories, like pretzels and chips.
Mr. Nafman: Yes. And bars are very portable. I think it's a trend that people are looking for healthy alternatives to salty and savory snacks, and we saw an opportunity.
The Strong & Kind line also has more protein than your other bars, with 10 grams from almonds and pea protein.
Mr. Nafman: We wanted to give an option of higher protein for people we describe as active, and it allowed us to say the bar is satiating.
Are there plans to expand the line?
Mr. Nafman: We are going to be looking at additional flavors. I can't tell you exactly the plans just yet, but when you think of savory flavors, the natural places to go would be hot sauce, buffalo flavors, things like that.
So, let's back up and talk about innovation in general at Kind. How does the product development process work at your company?
Mr. Lesser: I think if you look at our cadence of innovation, we're always identifying opportunities that continue to grow the brand. So, when you think about Kind Healthy Grains Clusters, that took us into a different category where we were pushing versatility. Eat it on the go, with milk or over yogurt.
Are there plans to enter other categories besides bars and granolas?
Mr. Lesser: We're seeing opportunity to continue to smartly stretch the brand throughout the store. As we think through innovation the next two or three years, we will continue to want to grow the Kind brand.
It's the mindset Josh talked about, continuing to think about how to bridge other salty/savory snacks, so it's always with that thinking of how we can really delight our consumer in different ways.
Mr. Nafman: While remaining true to our core of always being a healthy snack.
How long does it take to develop a product?
Mr. Lesser: It differs, depending if it's a flavor or entirely new line, but it could be a one-, two-year process.
In the office is where the inspiration comes, where it's things we want to try. So, it could be product development coming to marketing saying, "Try this, what do you think?" It could be marketing coming to product development, saying, "Hey, have you thought about this?" That's where the process starts, and the timeline builds off of that. Is it a new delivery system, or is it more of a flavor extension?
One of our founding principles, we call it the "and" philosophy, which essentially boils down to no false compromises. And so as we're looking at doing that, I think the Nuts & Spices line is a perfect example.
We knew there was consumer demand for lower sugar alternatives. To do it the Kind way, we knew there was always going to be sugar because there's naturally occurring sugar in the ingredients that we have, but by taking out the fruit and adding in spices, we were able to get to 5 grams of sugar or less because a lot of the sugar is from the fruit. But we're able to deliver unique flavor profiles while also offering 5 grams of sugar or less.
For us it's always forward-looking. What's the next thing we can do to innovate in the categories that we play in?