A Small Ray of Hope
Apr 30, 2015
Published under Israel
A small ray of hope that we can maybe build on to help people across the world discover our shared humanity and in turn start driving positive change in their societies.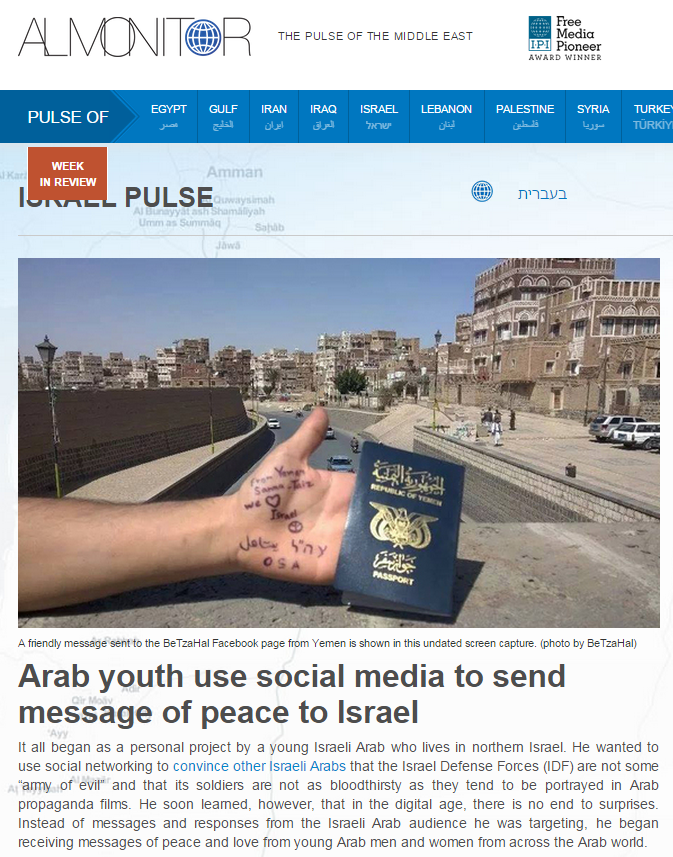 M. is an Israeli Arab Muslim who served in the IDF. He spoke to Al-Monitor on condition of anonymity. Last year, he came across a series of billboards sponsored by the Balad Party as part of its campaign against the recruitment of Israeli Arabs into the IDF. He decided to fight back. "I saw the signs that were hung in Arab villages, and I kept track of the Facebook campaign being run by activists of Balad and the other Arab parties under the name 'TZaHaL ma bistahal' ['The IDF isn't worth it']. It infuriated me," he said.
"Activists would show up in the main square of Shfaram with bits of rubble, as if the rubble were from Gaza. They carried big signs too, as if they were trying to say, 'Look what the army that is calling on you to enlist is actually doing in the Gaza Strip.' Some of the activists would even paint their faces red, as if they were injured, while they tried to relay their message of 'Don't enlist!' to young Bedouin, Druze, Christians and Muslims. I decided to respond to them on Facebook, so I made a page called 'TZaHaL bistahal' ['The IDF is worth it'], but instead of getting responses from the young Arabs to whom I was directing my personal campaign, I started to get photos and texts from young people around the Arab world. My jaw dropped."
The photos and video clips sent from Iraq, Saudi Arabia, Egypt, Tunisia, Jordan and other countries can be found on the Facebook page "BeTzaHaL" ("In the IDF"), and there are lots of them. One young woman from Saudi Arabia filmed a green Saudi passport. Her voice plays in the background, against a street scene in Jeddah, with a message for the people of Israel: "Good evening. I am a young woman from Jeddah in Saudi Arabia. I am a member of one of the better-known tribes of the Hijaz, and I am showing you Darajeh Square, a famous landmark in Jeddah. I'd like to send a message of peace and love to Israel and its dear citizens. I know it is surprising that a Saudi Arabian citizen sends a message to the people of Israel, but it is a basic principle of democracy that everyone is free to voice an opinion. I hope the Arabs will be sensible like me and recognize the fact that Israel also has rights to the lands of Palestine."
A young man from Iraq shot a picture of his passport along the Tigris River. "I want to send a message of peace and love to the dear Israeli people," he says. "I decided to shoot this video and tell you, 'True, we are two countries that do not have friendly relations, but that doesn't matter. I believe that the number of people who support Israel here will grow consistently.'"
Other young people send M. photos of their passports with handwritten messages in Hebrew, Arabic and English. It is always the same: "We love Israel." One Egyptian police officer took it a step further by including his police cap along with his passport in the shot and wrote in Arabic, "We love, love, love Israel and its army." He even added a picture of a heart with a Star of David in the middle of it.
M. said that the whole thing began with a young Coptic woman from Egypt who emigrated to the United States, where she experienced racism and manifestations of hatred toward Copts. "I quickly learned that she also speaks Hebrew, like many young people who studied Hebrew at Cairo University," he said. "So I said to her, 'Why don't you do a little something to spread the message, so that people in other countries will see and hear that there are other voices in the Middle East?' She sent a photo of her passport, and pretty soon I started getting pictures of passports from all across the Arab world. The very next photo came from Iraq."
M. also engages the senders in private conversations, which are not posted publicly. "After I got the video from Baghdad, I asked the person who sent me the clip what it was that caused him to express support for Israel. He responded, 'You'd be surprised. I'm not the only one. There are a lot of young people here who think like me. Everything that is happening to us here in Iraq — the killings, the terrorism, the veritable bloodbath — showed us that Israel has nothing to do with it. There are many young people living in Iraq today who have no religion. They are fed up with the religious wars between Sunnis and Shiites and want to live their lives without religion."
M. says that he has also been receiving messages from a young student in Jordan. A member of a prominent clan, she claims to have many senior army officers in her family. What impresses her most about Israel is its liberalism. "I was amazed to learn that they have gay pride parades and that single-sex marriages [performed abroad] are accepted there," she confided to M. "She told me that although she realized that her sexual orientation is different, in a traditional society she cannot come out as a lesbian, especially since she is a member of a prestigious clan. All she can do is be envious of the fact that in Israel, just a few dozen miles from the Jordanian border, a whole different life is possible."
Over the past year, M. continued to receive a daily stream of messages from young Arabs, shedding light on yet another aspect of the dramatic changes underway in the Arab world. Yes, there are wars, revolutions and a return to traditional religions. There are bloody struggles between Shiites and Sunnis and the Islamic State has risen. At the same time, however, many young people long for another reality, even if perhaps it cannot be implemented in their own countries. Syria and Iraq have been torn apart, Yemen is fighting the rise of the Houthis and in Egypt, young people continue to dream of how liberalism and democracy might one day beat back religious zealotry.
It is certainly possible that the phenomenon encountered by M. during his private protest is a fringe one, but in an era of open skies and open Internet, no leader, not even a dictator, can block borders once they have been breached.
Author:  Shlomi Eldar
Translator: Danny Wool