Kind named as a winner of the 2015 Brand Activation Association (BAA) Brand Brilliance Awards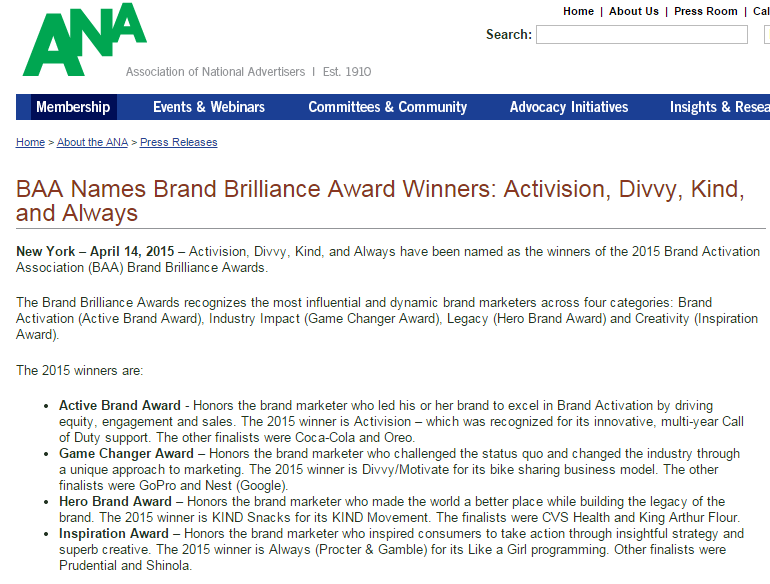 The Brand Brilliance Awards were presented at a special luncheon ceremony on April 14th at BAA's annual conference – the Brand Activation Annual Showcase at The Westin Chicago River North Hotel.
Bonnie Carlson, President and CEO of BAA said, "The Brand Brilliance Awards is a chance for us to identify and celebrate the most dynamic brands in the US marketplace. It is always an honor to recognize influential and inspirational marketers and the teams behind Activision, Divvy, Kind, and Always have led their categories."
About the ANA
The ANA (Association of National Advertisers) provides leadership that advances marketing excellence and shapes the future of the industry. Founded in 1910, the ANA's membership includes more than 650 companies with 10,000 brands that collectively spend over $250 billion in marketing and advertising. The ANA also includes the Business Marketing Association (BMA) and the Brand Activation Association (BAA) which operate as divisions of the ANA. The ANA advances the interests of marketers and promotes and protects the well-being of the marketing community. For more information, visit www.ana.net, follow us on Twitter, or join us on Facebook.