Zoo animals loose in streets after deadly floods
I hope this is not a portent of what is to come because of climate change. The scene described could fit in a book or film and would be considered by viewers as over the top Hollywood exaggeration except, yet again, fact is stranger than fiction.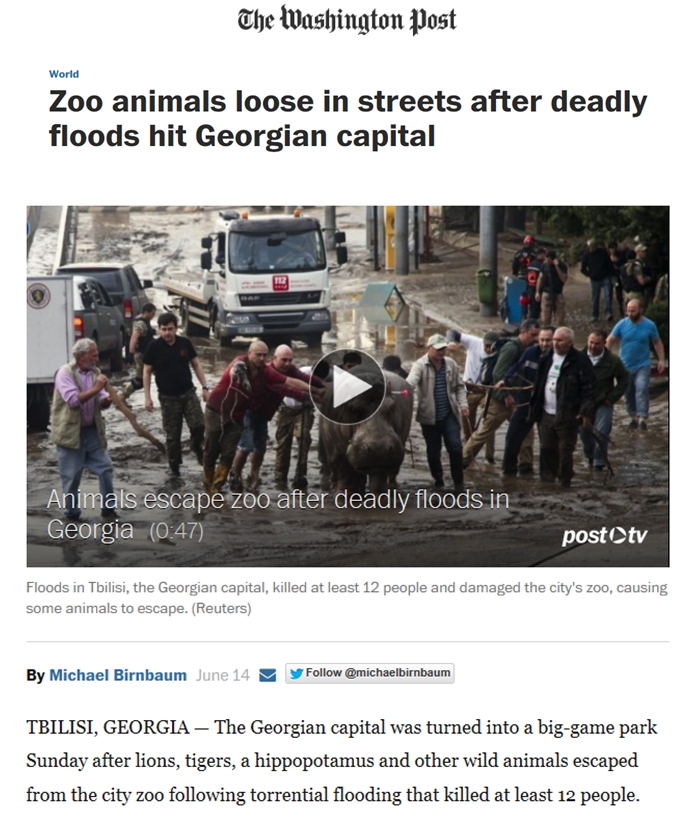 Georgian leaders asked residents to stay inside as they hunted the escaped zoo animals, at least one of which chased a security guard across a university campus. The animals, which also included bears, hyenas and crocodiles, added a chaotic element to a tragic human situation. Some of the zoo animals were being shot by Georgian security forces despite pleas from zoo leaders to find a way to spare their lives.
The hippopotamus swam out of its enclosure and onto the central Heroes' Square, eating leaves off a tree before being shot with a tranquilizer dart in front of a Swatch store. It was later returned to the zoo, a zoo spokeswoman said, and other animals were also being returned as night fell.
But there was still no overall toll of the missing and the dead at the zoo. Three zoo workers died as they tried to save the animals after the normally docile river that runs alongside the zoo jumped its banks and streamed into the animal enclosures.
Rescuers used rafts and inflatable boats to reach people trapped by flooding, and one residential street appeared largely washed away. At least one lion and one bear were shot and killed by police officers, and zoo officials feared for many more.
Officials said the flooding in the Georgian capital was the worst natural disaster in recent memory.
Tbilisi Mayor David Narmania said on national television that 12 people had been confirmed dead so far and dozens more were missing.
"The situation is rather difficult," Georgian Prime Minister Irakli Garibashvili said. "We haven't seen anything like this in Tbilisi before."
About 1.1 million people live in the Georgian capital.
Among the dead was one zoo worker, Guliko Chitadze, who had an arm amputated two weeks ago after a tiger mauled it. She had returned to work just a few days ago. Her husband, also a zoo worker, was killed as well, zoo spokeswoman Mzia Sharashidze said. The workers had spent the night at the zoo to feed newborn animals.
"I can't imagine this tragedy," she said. "Almost the whole zoo is underwater."
Torrential rain late Saturday and early Sunday poured down on Tbilisi, a hilly city that is along a river valley. The Tbilisi Zoo lies along the banks of the Vere River, which overflowed and caught the animals in their pens and cages.
Helicopters were flying over Tbilisi on Sunday, and a rescue effort could be seen underway at the zoo, where debris and mud had overwhelmed many of the enclosures. Parts of the zoo still were underwater.
Sharashidze said tigers, hyenas and eight lions had disappeared, as well as many other animals. Six of 17 penguins were saved; the rest were washed away. One crocodile was captured, and zoo workers were trying to reach another as of mid-afternoon Sunday.
Sharashidze said that there had been a plan several years ago to move the zoo to an expanded location on the Tbilisi Sea, an artificial reservoir. But that plan was abandoned for financial reasons, she said.
Authorities here appeared ill-equipped to handle the flood.
At the Tbilisi State University, which is on a hill above the zoo, a hyena was fatally shot next to a small guardhouse. Guards said that the hyena had chased one guard across a park on Sunday morning. The guard locked himself in the shed and called the police.
Police killed the animal because they had no tranquilizer darts, the guards said.
The hyena was splayed on the ground, with foam coming out of its mouth. Flies buzzed on its face. Guards warned visitors to leave quickly because they feared more animals were on the loose.
The head of the Georgian Orthodox Church blamed the disaster on Georgia's former communist rulers, according to the Interfax news agency.
"When communists came to us in this country, they ordered that all crosses and bells of the churches be melted down and the money used to build the zoo," Patriarch Ilia II said at a sermon. "The sin will not go without punishment."
related posts
In case anyone has doubts as to Hamas and Iran's intentions: nothing less than Israel's destruction.  Their extremism prolongs the conflict and the suffering of both: ordinary Palestinians and Israelis.   Iran's supreme leader assails two-state solution for Palestinians and Israel By Associated Press, Published: October 1 TEHRAN, Iran — Iran's supreme leader assailed a [...]

Ambassador Dennis Ross examines the conflict in Gaza from all sides, pinpointing the pivotal position that Egypt plays in fueling or ending the current violence in the region. See Ambassador Ross's full Daily News opinion piece after the jump. Spotted by Daniel Lubetzky, by Julianna Storch The fuel for the flames How forces inside [...]