Pope Francis Making Great Snack Choices!
Cute article from the Onion. We would be honored if it was actually true!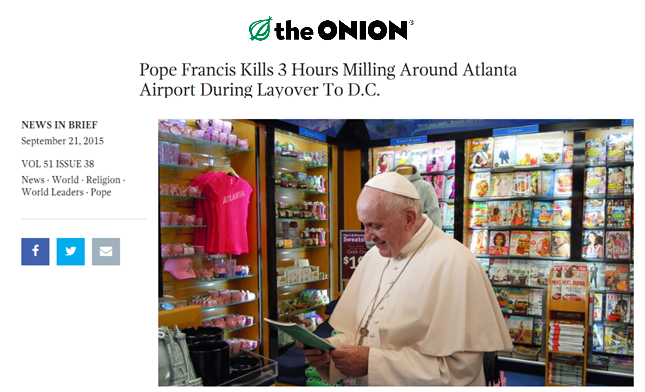 ATLANTA—Surveying the variety of travel pillows and support cushions as he browsed through a Brookstone in Concourse D, Pope Francis reportedly killed three hours Monday milling around the Hartsfield-Jackson International Airport during a layover to Washington, D.C. "I was just going to grab something at Panda Express, but then I figured since I have so much time, I might as well head to the next concourse and check out the food options there," said the Vicar of Christ, who confirmed that he spent 20 minutes seated at a food court table people-watching before strolling through the terminal and window-shopping at Headphone Hub, Sunglass Icon, and Savannah's Candy Kitchen. "I'm definitely going to swing by Hudson News before my flight and grab a bottle of water and maybe a bag of Bugles or a Kind bar. That new Clive Cussler book looks pretty good, too, so I might pick that up to read on the plane." At press time, sources confirmed Pope Francis had lost track of the time and was frantically running across the terminal to catch his flight.