Abbas and Olmert share how close they got to a deal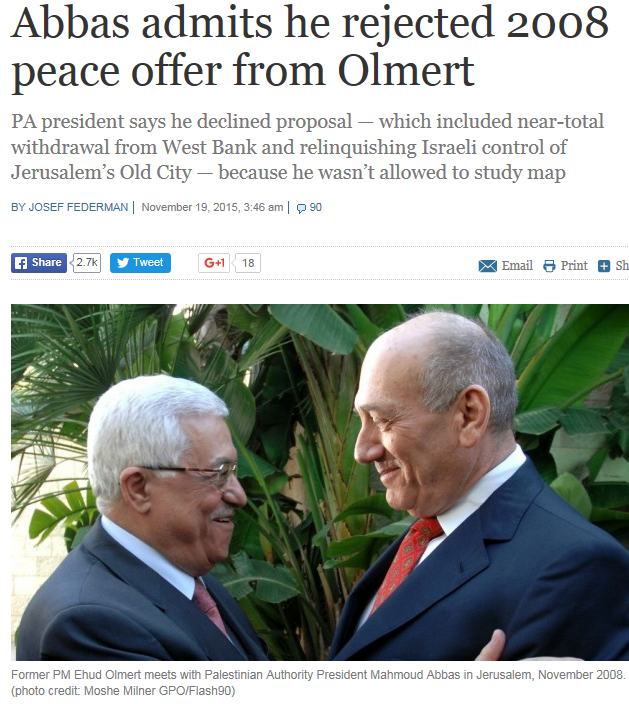 JERUSALEM (AP) — Palestinian Authority President Mahmoud Abbas has shined new light on the breakdown of a potentially history-altering round of 2008 peace talks, saying that he rejected an offer from Israel's Ehud Olmert — which included placing Jerusalem's Old City under international control — because he was not allowed to study the map.
Interviewed separately by Israel's Channel 10 TV, both men described the negotiations as serious and said a peace deal was achievable, underscoring just how much the region has changed in only a few years. Israel and the Palestinians are enmeshed in a new round of violence, and Abbas and Israel's current prime minister, Benjamin Netanyahu, have barely spoken.
The talks occurred at a turbulent time. Olmert, then prime minister, was enveloped in a corruption scandal and had announced his intention to step down. In the interview, Olmert described a meeting on Sept. 16, with elections a few months away, in which he presented an offer seeking to address all major Palestinian concerns.
"I told him, 'Remember my words, it will be 50 years before there will be another Israeli prime minister that will offer you what I am offering you now. Don't miss this opportunity,'" Olmert said in the interview, aired late Tuesday.
The Palestinians seek all of the West Bank as part of an independent state, with east Jerusalem as their capital. Israel captured both areas in the 1967 Mideast war.
Olmert said he had offered a near-total withdrawal from the West Bank — proposing that Israel retain 6.3 percent of the territory in order to keep control of major Jewish settlements. He said he offered to compensate the Palestinians with Israeli land equivalent to 5.8 percent of the West Bank, along with a link to the Gaza Strip — another territory meant to be part of Palestine.
He also said he offered to withdraw from Arab neighborhoods of east Jerusalem and place the Old City — home to Jerusalem's most sensitive holy sites — under international control. He described the offer to give up Israeli control of the Old City as the hardest day of his life.
Abbas said he supported the idea of territorial swaps, but that Olmert pressed him into agreeing to the plan without allowing him to study the proposed map.
"He showed me a map. He didn't give me a map," Abbas said. "He told me, 'This is the map' and took it away. I respected his point of view, but how can I sign on something that I didn't receive?"
Olmert confirmed that he pressed Abbas to initial the offer that day.
Abbas said he also felt Olmert's offer to accept a symbolic number of Palestinian refugees into Israel did not resolve the issue — because descendants of Palestinian refugees now number in the millions, many scattered across the region.
Abbas said negotiations continued, but broke down as Olmert's legal problems worsened. Olmert has since been convicted on bribery and corruption charges and sentenced to more than six years in prison. He is currently free while he appeals.
Nonetheless, the Palestinian leader described the talks as the most serious negotiations since an interim peace accord was reached in 1993 under then-Prime Minister Yitzhak Rabin. Two years later, Rabin was assassinated by a Jewish ultranationalist opposed to his peace moves.
"I feel he [Olmert] was assassinated politically as Rabin was assassinated materially. I feel if we had continued four to five months, we could have concluded the issues," he said.
Olmert has discussed the details of his peace plan before. Yet the interview revealed some new personal details.
Olmert said he began his transformation from an outspoken hard-liner to political dove years earlier while he was mayor of Jerusalem and concluded that the continued control over Palestinian neighborhoods of the city was unworkable.
He also said that his first meeting with Abbas in December 2006 came about thanks to some home cooking by his wife and a guilt trip. When Abbas tried to cancel the meeting at the last minute, he warned him that wife Aliza was already cooking and would be insulted, Olmert recalled.
"What shall I tell her now?" Olmert said he told Abbas. After 15 seconds of silence Abbas consented, Olmert said.
Olmert's peace vision was driven by the belief that Israel's continued control of the Palestinians is leading the country to disaster. Without the establishment of a Palestinian state, the thinking goes, Israel's settlements in the West Bank will reach such dimensions that separation will become impossible. The choice then will be annexing the land and creating a truly "binational" state, half its citizens Arabs, or becoming an apartheid-like entity where millions of Arabs do not have full rights.
Netanyahu says he opposes a binational state and endorsed Palestinian statehood — but his terms seem very far from Olmert's. Peace talks are frozen and the settlements continue to grow.
In a review of the program, Rogel Alpher of the liberal Haaretz daily said that Israel would have been better off if Olmert had not been prosecuted.
"Olmert, as it turns out, was the last chance for a two-state solution," he wrote. "When weighing the option to prosecute Olmert against the option of ending the occupation … the latter would have raised the level of morality in the world infinitely more."
TimesofIsrael.com