Social Media: Destroyer or Creator?
This article highlights the challenge of social media to affirm rather than inform our beliefs, and to segment and divide rather than unite in shared understanding.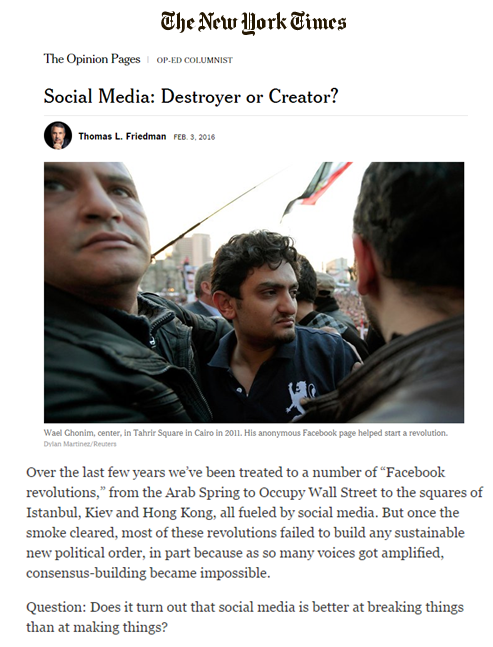 Recently, an important voice answered this question with a big " yes." That voice was Wael Ghonim, the Egyptian Google employee whose anonymous Facebook page helped to launch the Tahrir Square revolution in early 2011 that toppled President Hosni Mubarak — but then failed to give birth to a true democratic alternative.
In the early 2000s, Arabs were flocking to the web, Ghonim explained: "Thirsty for knowledge, for opportunities, for connecting with the rest of the people around the globe, we escaped our frustrating political realities and lived a virtual, alternative life."
And then in June 2010, he noted, the "Internet changed my life forever. While browsing Facebook, I saw a photo … of a tortured, dead body of a young Egyptian guy. His name was Khaled Said. Khaled was a 29-year-old Alexandrian who was killed by police. I saw myself in his picture. … I anonymously created a Facebook page and called it 'We Are All Khaled Said.' In just three days, the page had over 100,000 people, fellow Egyptians who shared the same concern."
Soon Ghonim and his friends used Facebook to crowd-source ideas, and "the page became the most followed page in the Arab world. … Social media was crucial for this campaign. It helped a decentralized movement arise. It made people realize that they were not alone. And it made it impossible for the regime to stop it."
Ghonim was eventually tracked down in Cairo by Egyptian security services, beaten and then held incommunicado for 11 days. But three days after he was freed, the millions of protesters his Facebook posts helped to galvanize brought down Mubarak's regime.
Alas, the euphoria soon faded, said Ghonim, because "we failed to build consensus, and the political struggle led to intense polarization." Social media, he noted, "only amplified" the polarization "by facilitating the spread of misinformation, rumors, echo chambers and hate speech. The environment was purely toxic. My online world became a battleground filled with trolls, lies, hate speech."
Supporters of the army and the Islamists used social media to smear each other, while the democratic center, which Ghonim and so many others occupied, was marginalized. Their revolution was stolen by the Muslim Brotherhood and, when it failed, by the army, which then arrested many of the secular youths who first powered the revolution. The army has its own Facebook page to defend itself.
"It was a moment of defeat," said Ghonim. "I stayed silent for more than two years, and I used the time to reflect on everything that happened."
Here is what he concluded about social media today: "First, we don't know how to deal with rumors. Rumors that confirm people's biases are now believed and spread among millions of people." Second, "We tend to only communicate with people that we agree with, and thanks to social media, we can mute, un-follow and block everybody else. Third, online discussions quickly descend into angry mobs. … It's as if we forget that the people behind screens are actually real people and not just avatars.
"And fourth, it became really hard to change our opinions. Because of the speed and brevity of social media, we are forced to jump to conclusions and write sharp opinions in 140 characters about complex world affairs. And once we do that, it lives forever on the Internet."
Fifth, and most crucial, he said, "today, our social media experiences are designed in a way that favors broadcasting over engagements, posts over discussions, shallow comments over deep conversations. … It's as if we agreed that we are here to talk at each other instead of talking with each other."
Ghonim has not given up. He and a few friends recently started a website, Parlio.com, to host intelligent, civil conversations about controversial and often heated issues, with the aim of narrowing gaps, not widening them. (I participated in a debate on Parlio and found it engaging and substantive.)
"Five years ago," concluded Ghonim, "I said, 'If you want to liberate society, all you need is the Internet.' Today I believe if we want to liberate society, we first need to liberate the Internet."
By Thomas L. Friedman