Trump and the politics of cultural despair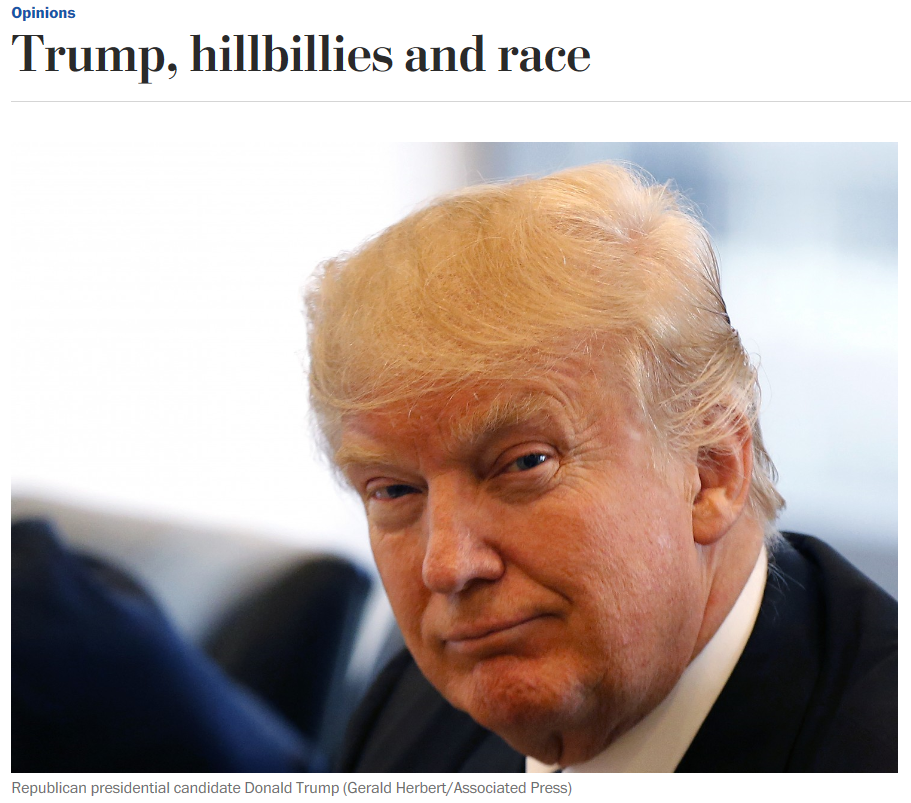 Fareed Zakaria's latest Washington Post column.
For some of us, the puzzle of this election is not why Donald Trump is doing so badly but why he is doing so well. Given his obvious lack of qualifications, his absurd proposals, his hypocrisy, his obnoxious rhetoric, his sheer incompetence as a candidate, why is he not down 10 points in every state?
In other words, who are Trump's voters and why do they stick with him? Sometimes a good writer with a keen eye can provide more insight than a dozen polls. J.D. Vance has done just that in his lovely book "Hillbilly Elegy: A Memoir of a Family and Culture in Crisis." The book has rocketed up the best-seller lists — deservedly so. But it has some interesting and important gaps.
We all now know that Trump's rise has been fueled by the alienation and anger of the country's white working class. That cohort has seen its incomes stagnate, cities crumble and dreams vanish. But Vance gets underneath the data and shows us what these impersonal forces mean to actual people. He describes the abandoned children, the poor work habits, the drug abuse, the violence, the rage. But he does it with sympathy and love. They are his family, after all.
For Vance, the problem is ultimately cultural, one of values, attitudes and mores. "We hillbillies must wake the hell up," he writes, and "stop blaming Obama or Bush or faceless companies and ask ourselves what can we do to make things better." His own life story — coming from low expectations, dysfunctional relationships and persistent poverty to end up a graduate of Yale Law School and a Silicon Valley executive — demonstrates that grit can conquer all.
But Vance got some help along the way. He tells us that his public schools were decent enough and, when he got motivated, his teachers helped him succeed. He notes that his trajectory changed when he was admitted to Ohio State University, which he was able to attend because of generous federal loans and grants. And the turning point in the book and his life takes place when he decides to enlist in the Marine Corps. He describes how the armed forces taught him discipline, hard work, high expectations and good values. (When he was contemplating buying a car, an older Marine steered him away from his choice of a flashy BMW and toward a Honda.)
This is federal bureaucracy engaged in shaping mores and morals, the ultimate example of government as nanny. When so much of what government does is under siege, it is odd that Vance seems to minimize the role that government can play in providing opportunities for others like him.
The other, larger gap in Vance's book is race. He speaks about the causes of the anxiety and pain of the white working class, but he describes the causes almost entirely in economic terms. Their jobs have disappeared, their wages have stagnated, their lives have become more unstable. But there is surely something else at work here — the sense that people who look and sound very different are rising up. Surveys, polls and other research confirm that racial identity and anxiety are at the heart of support for Trump.
Vance touches on this sideways, when speaking about the almost pathological suspicion his "hillbillies" have for Barack Obama. Vance explains that it is because of the president's accent — "clean, perfect, neutral" — his urban background, his success in the meritocracy, his reliability as a father. "And," one wants to whisper to Vance, "because he's black ." After all, over the years the white working class has voted for plenty of Republican and Democratic candidates with fancy degrees and neutral accents. That's not what makes Obama different.
The white working class has always derived some of its status because there was a minority underclass below it. In his seminal work, "American Slavery, American Freedom," Edmund Morgan argues that even before the revolution, the introduction of slavery helped dampen class conflict within the white population. No matter how poor you were, there was security in knowing there was someone beneath you.
The rage that is fueling the Trump phenomenon is not just about stagnant wages. It is about a way of life under siege, and it risks producing a "politics of cultural despair." That phrase was coined by Fritz Stern to describe Germany a century ago. The key to avoiding that fate is not a series of public policies — whether tariffs or tax credits — but enlightened politics, meaning leadership that does not prey on people's fears and phobias.