The Daily Meal: KIND Founder and CEO Spends $25 Million on 'Feed the Truth' Public Health Organization
Feb 16, 2017
Published under Health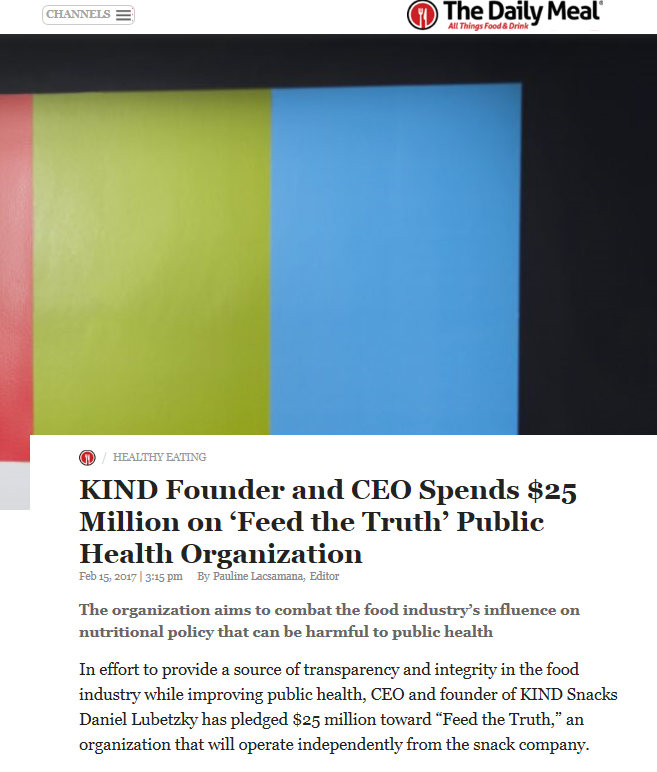 The organization aims to combat the food industry's influence on nutritional policy that can be harmful to public health
In effort to provide a source of transparency and integrity in the food industry while improving public health, CEO and founder of KIND Snacks Daniel Lubetzky has pledged $25 million toward "Feed the Truth," an organization that will operate independently from the snack company.
"In establishing Feed the Truth, my intent is to elevate reputable science, bolster the voices of the nutrition community, and improve the guidance and information offered to Americans," Lubetzky said in a statement.
"As a business owner, I understand the importance of prioritizing your bottom line, but it's equally as important to consider how you can succeed while also thinking about the long-term impact on the community."
To ensure independence from KIND and get rid of bias, Lubetzky will remove himself from all of the organization's activities and has gathered a team of unaffiliated public health experts as Feed the Truth's Board of Directors.
The board will include Deb Eschmeyer, former executive director of Let's Move! and senior policy advisor for nutrition policy at The White House; Michael Jacobson, co-founder and president of the Center for Science in the Public Interest; and Marion Nestle, professor of nutrition, food studies, and public health at New York University.
The new organization aims to "ensure science overrules special interest," a topic often questioned when nutritional studies are funded by big food companies.
Just last year, a study funded by global companies such as Coca-Cola and Kellogg's received backlash for discrediting studies that suggest the limitation of sugar intake (a dietary guideline emphasized by the World Health Organization).
KIND has even run into issues with criticism of its products, with the U.S. Food & Drug Administration (FDA) questioning the company's "healthy" claim. The company fought back with a Citizen Petition to request that the agency update "existing requirements related to food labeling to become consistent with current federal dietary guidance." The FDA has since reversed its decision to have the company remove its "healthy" label.
With Feed the Truth, Lubetzky hopes to provide unbiased nutritional information and "hold all of us in the food community accountable for what we say and claim."