MindBodyGreen: This Health Food CEO Wants You To Know EXACTLY What You're Snacking On
Feb 16, 2017
Published under Health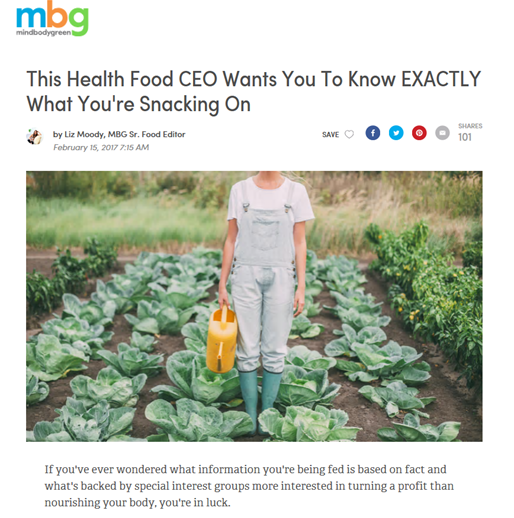 If you've ever wondered what information you're being fed is based on fact and what's backed by special interest groups more interested in turning a profit than nourishing your body, you're in luck.
This morning, Daniel Lubetzky, the founder and CEO of KIND Healthy Snacks, announced the launch of Feed the Truth, a first-of-its-kind independent organization that will seek to provide some much-needed transparency in our food system.
To ensure the independence of the organization, Lubetzky will personally remove himself from the operations of the organization, relying instead on three unaffiliated advisers to hire a board of directors. The advisers come from prestigious public health backgrounds and include Deb Eschmeyer, former executive director of Let's Move! and senior policy adviser for nutrition policy at the White House; Michael Jacobson, Ph.D., co-founder and president of the Center for Science in the Public Interest; and Marion Nestle, Ph.D., MPH, professor of nutrition, food studies, and public health at New York University.
"In establishing Feed the Truth, my intent is to elevate reputable science, bolster the voices of the nutrition community, and improve the guidance and information offered to Americans," Lubetzky says. "As a business owner, I understand the importance of prioritizing your bottom line, but it's equally important to consider how you can succeed while also thinking about the long-term impact on the community."
The idea for Feed the Truth was born in 2015, when the FDA publicly confronted KIND over the "healthy" claim on their packaging, citing nutrition guidelines established almost two decades prior that dictate limitation of all fat—even those currently recognized as "healthy" that are derived from avocados, nuts, and seeds. KIND filed a citizen petition that resulted in the FDA agreeing to revisit their nutrition guidelines, but at the same time, a new report was published, bringing to light the Sugar Association's involvement in the FDA's dietary guidance, resulting in the demonization of fat and the subsequent surge of sugar-rich, low-fat products.
"We're eager for Feed the Truth to step in and hold all of us in the food community accountable for what we say and claim," says Lubetzky. "While this 'Big Sugar' revelation underscored the need to provide more tools to public advocates, it doesn't mean that 'fat' or 'protein' should now be evangelized. Feed the Truth's independent board of directors, once established, will seek to ensure consumers have access to unbiased nutrition information."