Washington Post: Why one food executive is pledging $25 million to fight his own industry
Feb 16, 2017
Published under Health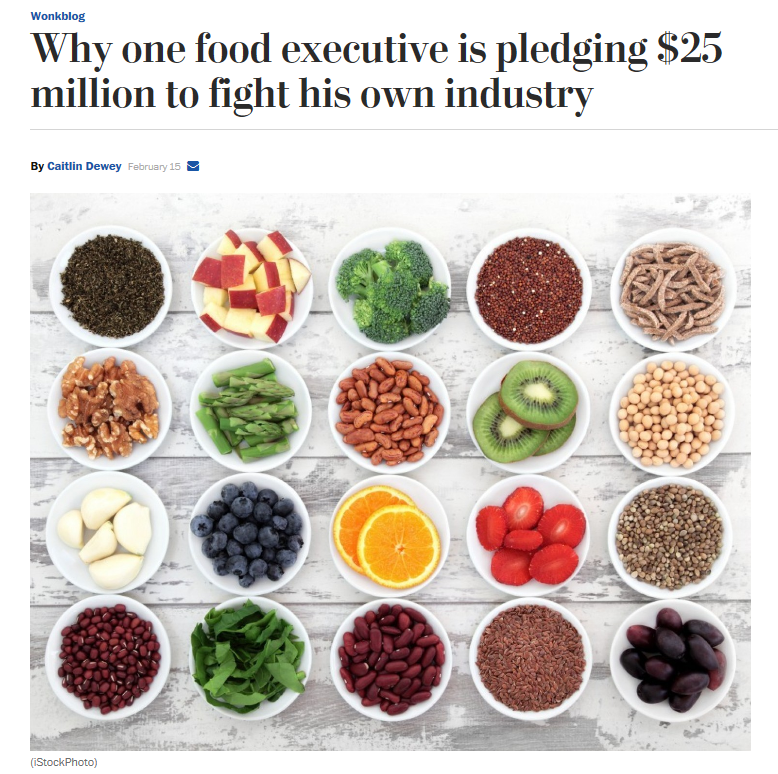 In late 2015, Daniel Lubetzky learned of a federal rule that puzzled him: Salmon, avocados, olives, eggs and tree nuts aren't "healthy," according to the Food and Drug Administration.
Lubetzky, the chief executive of snack brand KIND, had just received a letter from the FDA warning him to stop putting the term on the packaging of his snack bars. The agency's labeling regulations — dating back to the height of the anti-fat craze — prevented even "good" fats from calling themselves healthy, while allowing the label on some high-sugar products.
Learning about the origins of the rule — and, later, trying to change it — Lubetzky concluded that his industry had too much power in how food policy is decided. On Wednesday, he launched a new public advocacy organization, called Feed the Truth, designed to explore, expose and "counteract" that sort of influence. He is now giving $25 million to fund the organization–$5 million now and $20 million more over the next decade — though he says he won't have any role in deciding the organization's approach beyond choosing three nutrition experts to choose the group's board.
"I don't want to talk to them. I don't want to know who they are. I'm not going to forward them articles," Lubetzky said. "The announcement will be done by us. After that, we're cutting the cord — the decisions will be made by board members I've never met."
Experts generally agree that the food industry's influence over public health has gone too far. Political contributions from food and beverage companies have more than doubled in the past 18 years, and the industry spends billions to fund complementary research, finance "shadow" groups to advance its local agendas, and lobby regulators.
Michael Jacobson, the president of the Center for Science in the Public Interest and one of three prominent nutrition experts who will choose Feed the Truth's board, said the industry's political activities are vast. (The other early advisers are Marion Nestle, a professor of nutrition at New York University, and Deborah Eschmeyer, the former executive director of Michelle Obama's "Let's Move!" initiative.)
"Compared to that, [Feed the Truth] is a small organization," Jacobson said. "$25 million is a nice chunk of dough. But no, it's not $100 million."
There are several major battlegrounds in this larger fight against food industry influence. One is labeling, Jacobson said, but not just of the sort encountered by KIND. Several powerful trade associations have also marshaled their lobbyists to fight front-of-package food labeling, which would more clearly identify less healthful foods, and the updated Nutrition Facts panel, which will explicitly call out added sugars.
The processed food lobby has also fought voluntary sodium reduction targets, which Jacobson says could save "tens of thousands of lives." During a recent FDA comment period, dozens of public health departments and organizations urged the FDA to adopt the targets — while a number of well-funded trade groups, including the North American Meat Institute and the National Milk Producers Federation, opposed it.
"The industries with the most political clout and the deepest pockets tend to sway the way things go," said Andy Bellatti, the strategic director of Dietitians for Professional Integrity, a professional group.
Large food companies and trade associations argue that, by and large, they don't do anything that other business interests don't: They make their case to consumers, nutritionists and policymakers, who can then make their own decisions about what is healthful. Industry has opposed specific regulations, such as the sodium reduction, on the basis that the changes are being phased in too quickly or being applied too broadly. They also frequently highlight studies that suggest the science on things like salt and added sugar are far less settled than their critics say it is.
Nutrition research has, in fact, arguably become the best-known area of industry conflict — how much of it is financed by industry, and to what degree that might inform policy decisions. As government funding for this sort of research has contracted, major food companies the likes of Coca Cola and Nestle have stepped in. While there is nothing inherently wrong with industry-funded research, experts say, the funding sources are not always transparent. Industry money has also been used to elevate work that falls outside the mainstream scientific consensus.
In just the past year, for instance, it has emerged that half a century of conventional wisdom on the relative risks of sugar and saturated fat are based, in some part, on research secretly financed by the sugar industry to shift blame away from it. That wisdom was codified for many years in the Dietary Guidelines, the nutritional rubric recommended to Americans.
The 2015 guidelines were heavily criticized by public health experts for omitting several key recommendations from its scientific advisory panel, including condemnations of soda and red meat. That advisory panel was itself criticized, meanwhile, for allegedly failing to consider the full range of science on the subject. That National Academies of Science is currently reviewing that and other contentions, though it has thus far ruled the process "thoughtful" and effective.
"The battle, as you term it, begins with transparency and disclosure, but that's only the first step," Nestle said. " The real challenge is how to manage conflicts of interest — that will not be easy."
Feed the Truth is up against powerful adversaries: According to the Center for Responsive Politics, political action committees allied with the food, drink and alcohol industries donated $11.8 million to candidates last cycle, more than double what they gave 18 years ago. In 2016, nearly 600 separate food companies and trade associations lobbied the Department of Agriculture.
Depending on the makeup of its board, Lubetzky said, Feed the Truth may dedicate itself to investigative journalism about the food industry, or to independently checking industry-funded research. It could also theoretically sponsor educational campaigns directed at politicians and consumers.
Jacobson, Nestle and Eschmeyer are meeting within the next month to discuss potential board candidates. Once the board is hired, it will select an executive director. And Lubetzky will remain two degrees removed from him — even if he does expect Feed the Truth's work to vindicate his company.
"It's not my first or second priority," Lubetzky said. "But if a byproduct of this is that companies that make food that is wholesome and good end up winning …? That's a good outcome for society."