This weekend, a friend told me he met a family who was helping out a woman to "see the beach one last time". The story  highlighted how every day we have the power to make peoples' lives better off in untold and unmeasurable ways, at times not realizing the positive impact we may be having. As Anne Frank said, "How wonderful it is that nobody need wait a single moment before starting to improve the world".
I wanted to share the heartwarming story and you can view the full post here.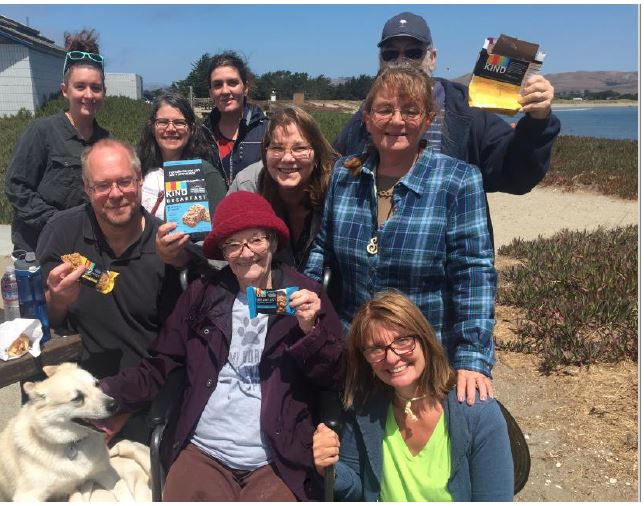 Hi Len,
I would love to share Kathie's story with you.
We went to the beach on Thursday for some special family time because last week Kathie diagnosed with Stage 4 metastasized Stomach Cancer. She has been given just weeks (not months) to live and wanted to see the beach just one more time with the people closest to her.
She was released from the hospital on Sunday and is now on Hospice. Her three daughters came immediately. One from Alberta Canada, one from Anchorage Alaska, and one from Palm Springs, and her 4 granddaughters (age 7-33) were all at the beach with my husband (who you spoke too) and I.
Her name is Katherine Henderson. She lives in Healdsburg. Her husband of 52 years died 3 1/2 years ago. She has experienced some health issues this past 14 months (a fall resulting in a broken arm, a heart attack, etc.) and has required some help to live independently.
Her oldest daughter Pauline (from Canada) and I have been best friends since meeting in band in Jr. High. I am actually a Senior Care Manager so when her Kathie fell last year and was hospitalized Pauline called me immediately and asked me if I could help find out what was happening and help her Mom. I was of course honored to help as I have known her since I was a child.
For the past year I have been helping Kathie by going to her house 3 or 4 times a week and taking her to the store or to the doctor, bringing her meals, doing whatever she needs help with. My husband Bob has been helping take care of her house and do the upkeep and chores that come.
I was the one with her when we got the bad news that she was so ill. I had to explain it to her and help her understand it and call her girls.
Kathie is an extremely talented woman. She is an accomplished musician, playing the Violin for many years and played with the Santa Rosa Symphony for over 10 years. She is an amazing seamstress and among many other things has made well over 100 absolutely stunning quilts and has gifted them to so many people. She is incredibly loving and our lives are just better with her in this world.
The reason we had the KIND Bars with us is because I am obsessed with them. I eat them often for breakfast or a snack. I have been buying them for Kathie because they are so clean and the perfect thing for her eat for breakfast or snack. (She has been losing weight so I have been trying to bring her healthy snacks.) My absolute favorite thing to eat right now is the KIND Blueberry Vanilla and Cashew bar. We also love the Blueberry and Almond Breakfast Bar and the Oats and Honey, all of them.
When we planned this quick beach trip we were trying to figure out a snack to bring that everyone could eat because a few of people are Gluten Free, and one is GMO Free , etc. I of course said I will grab some "KIND Bars". I stopped and bought the only boxes left at CVS.
Please thank your friend for creating these wonderful healthy bars. Every time I have one now I will remember our day at the beach and all the love shared that day.
Thanks again for being part of this special day!
Vicky