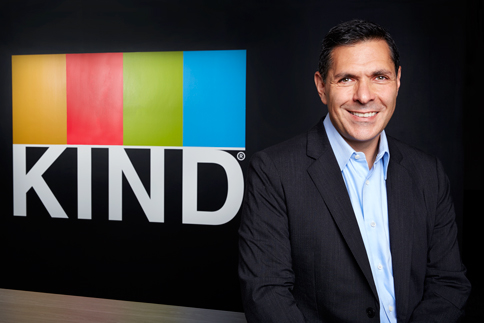 Daniel Lubetzky is a pioneering social entrepreneur known for integrating social objectives with sustainable market-driven forces to forge new business models that build bridges between people. He is the CEO and founder of KIND Healthy Snacks and the KIND Movement. He is also founder of PeaceWorks and OneVoice, and cofounder of the apparel company Maiyet. Lubetzky has received numerous awards and recognitions for his humanitarian efforts and his business practices; among them he's been named one of America's Most Promising Social Entrepreneurs in BusinessWeek, one of 25 Responsibility Pioneers by Time, one of the Creativity 50 by Advertising Age, and one of the 100 Most Intriguing Entrepreneurs at the Goldman Sachs Builders and Innovators Summit. He has received Entrepreneur of the Year awards from both Entrepreneur magazine and Ernst & Young. He lives in Manhattan with his wife and four children.
about daniel
Early Life
The son of a Holocaust survivor and a Mexican Jew,
Daniel
was born in 1968 and raised in Mexico City, where he began his education in Hebrew, English, Spanish and Yiddish. As a teenager, he moved with his family to the U.S. During his college years, Daniel created a retail watch operation, Da'Leky Times. He studied abroad in both Israel and France, where he added French to his languages. While in the Middle East, he began developing relationships with Israeli and Palestinian friends.
Education
At Trinity University in San Antonio, Texas, the seeds of PeaceWorks were planted as Daniel wrote his 268-page thesis, "The Influence of Economic Factors in Resolving the Arab-Israeli Conflict." After receiving his B.A., magna cum laude, in 1990, Daniel worked in Tokyo for a summer with Japan Counselors, a strategic marketing firm. In 1991, Daniel summered as a clerk for The Honorable Thomas R. Phillips, Chief Justice for the Supreme Court of Texas. Daniel earned his J.D. from Stanford Law School in 1993 and worked briefly at Sullivan & Cromwell and McKinsey & Company. 
See Daniel's Full Bio
The Book: Do the KIND Thing
        
daniel's business & social enterprises
Founded 2004

In 2003, unhappy with unhealthy or unappetizing snacking choices, and concerned with the rising obesity and diabetes epidemic in America, Daniel launched KIND Snacks with the value proposition of being "KIND to your body, your taste buds and the world." ®

KIND has since become the fastest-growing healthy snack in the nutrition bar category, available in 60,000 stores, and recognized with the Best Product of the Year Award in the natural food industry (NPEE) and scores of awards. Its KIND PLUS Fruit and Nut bars are the first to deliver functional nutrition through "wholesome ingredients you can see and pronounce."® And its KIND Healthy Grains Clusters are snackable hand-crafted artisanal blends of nature's most healthful whole grains and super foods. KIND's marketing efforts – including its Do The KIND Thing campaign – are designed to simultaneously foster unexpected acts of kindness.

Founded 2002

In the fall of 2000, Daniel began to research creative ways to amplify the voice of ordinary citizens in the Middle East, culminating with the creation of the nonprofit PeaceWorks Foundation's OneVoice Movement in 2002.

With offices in Ramallah, Tel Aviv, Gaza, London and New York, the OneVoice Movement now has over 749,033 Palestinian, Israeli and international signatories, including over 10,000 youth leaders with chapters in Israeli and Palestinian universities, and across cities, villages and refugee camps. The Movement's boards include over 60 dignitaries, religious authorities, business leaders, scholars and celebrities across an unprecedented spectrum of politics, ethnic backgrounds, and religious beliefs, all standing as OneVoice against violent extremism and for a two-state solution. OneVoice is also responsible for the One Million Voices campaign, the Who Am I? video project, the Imagine 2018 contest, and its provocative Goal 2018 campaign.

Founded 1994

While deciding whether to go into legal practice or consulting, Daniel was awarded the Haas Koshland Fellowship to write about legislative means to foster joint ventures between Arabs and Israelis.

He conducted his research in the Middle East and subsequently published "Incentives for Peace and Profits: Federal Legislation to Encourage U.S. Enterprises to Invest in Arab-Israeli Joint Ventures" in the Michigan Journal of International Law.

While carrying out his research in Israel, Daniel discovered a delicious sundried tomato product that, along with plans for Arab-Israeli economic cooperation, provided the foundation for PeaceWorks Inc. in 1994. PeaceWorks is a "not-ONLY-for-profit"™ business corporation pursuing both peace and profit. Its flagship brand – Meditalia –is made through cooperative ventures among neighbors striving to co-exist in the Middle East.

Founded 2010

In 2010, drawing lessons from PeaceWorks, Daniel co-founded Maiyet, a new luxury fashion venture committed to forging partnerships with artisans in some of the world's developing economies to create product that is unique and luxurious, while promoting self-sufficiency and entrepreneurship.
awards & honors
1997

Named one of 100 Global Leaders for Tomorrow (GLT) by the World Economic Forum

2003

Received the Outstanding Alumnus Award from Trinity University

2004

Received the Peace, Reconciliation and Security Award from the World Association of NGOs

2005

Accepted the King Hussein Humanitarian Leadership Prize from Queen Noor, on behalf of the OneVoice movement
Received the PeaceMakers Award from the Catholic Theological Union

2006

Named one of "43 Entrepreneurs Who Are Changing the World" by The Monitor Group and Fast Company magazine
Named Young Leaders Forum Fellow by the National Committee for USA-China Relations

2007

Recognized again as a Young Global Leader by The World Economic Forume

2008

Received the Skoll Award for Social Entrepreneurship, accompanied by a $1,000,000 grant to the PeaceWorks Foundation

2009

Named one of "America's Most Promising Social Entrepreneurs" by Business Week magazine
Named one of "25 Responsibility Pioneers" of social innovation by TIME Magazine

2010

Selected as Entrepreneur of the Year by Entrepreneur magazine