Dr. Saeb Erakat joins Board, endorses OneVoice Summit
  Today we met with Dr. Saeb Erakat in Jericho & he agreed to join the
OneVoice Honorary Board and to help us with the OV Summit.
Erakat is the tough but fair, pragmatic and constructive head
Palestinian negotiator.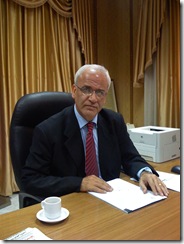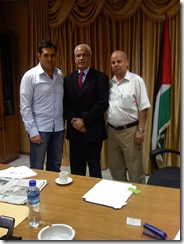 (here he is in center with me on the left and Dr. Fathi Darwish on the right)
Last May at the WEF conference in the Dead Sea, Dr. Erakat stunned the
audience by publicly chastising Iran's delegation for their negative
interference in Palestinian-Israeli affairs.
Iran's Minister was waxing poetic about the Palestinian struggle and
the Zionist satan when Erakat called Iran for its hypocrisy and asked
the panelist, "please, don't help us. You are hurting us with your
calls to annihilate Israel. Please don't help us. I am telling you
now as a Palestinian. Stay out of our affairs."
Erakat recognizes the importance of public opinion and grassroots
efforts. He also serves on the board of Seeds of Peace. He committed
to speak at the Oct.18 summit.
Sent from my iPhone – pardon typos
.