Anatomy of Activism: Paul McCartney and OneVoice
When Sir Paul McCartney performed a historic concert in Israel earlier this week, he wore the OneVoice symbol on his lapel – as did every member of his band.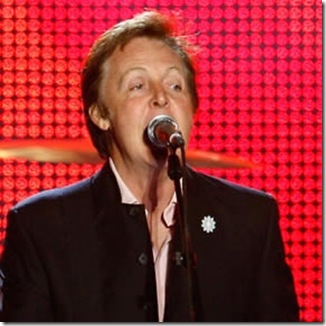 How did this come about?
When we learned that McCartney was headed to the Holy Land, our team in OneVoice Europe, led by Sayyeda Salam, took the initiative and reached out to him. They relied on a few of our Board members and supporters to connect, but it was primarily gumption and determination that got them to him.
Apparently Sir Paul was the most down-to-earth and kindest person, and he loved learning about OneVoice's mission of empowering ordinary Palestinian and Israeli citizens who reject extremism and absolutism and demand a two-state solution. OVE arranged for Paul to meet with OneVoice activists in the region.
Anti-Israel groups campaigned aggressively to dissuade McCartney from visiting the Holy Land, and threatened to boycott him if he didn't boycott Israel. Never mind that McCartney was bringing a message of peace and humanity and that he visited Palestine and respectfully shared a non-political humanitarian message for both Israelis and Palestinians. "Anti" groups and "cultural boycott" organizations often harm their own people because they make no distinction of the substance of the message or the group involved – rejecting and attacking even those who would work for a two-state-solution.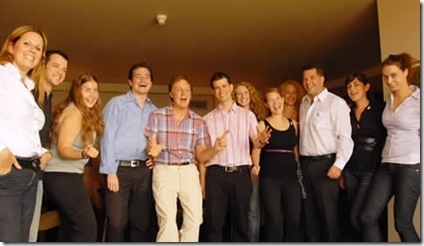 When McCartney met with our OneVoice Israel activists, he empathized with the challenges they faced exactly a year ago, when extremist groups attacked the OneVoice Summit, a parallel effort of mainstream Palestinian nationalists and separately mainstream Israeli nationalists to mobilize tens of thousands to propel their political representatives to end the occupation and all forms of violence through a comprehensive two state agreement.
McCartney told our activists:
"My father told me that regular people don't like wars and don't want conflict. I'm not a politician – I just want to bring a message of peace. In every place I perform I see that people want the same thing."
Gil Shamy, our Israeli Executive Director, gave him the OneVoice pin.
McCartney was so touched with the vision of our youth leaders that he decided to wear the pin during the concert – and give a pin to everyone in the band who did the same.
At at a press conference later on, McCartney still carried with him the message he and OneVoice had agreed on:
"My little bit is to try to bring people together through music … It seems to me that most of the people are quite moderate and would like a solution. They would like peace like most people in the world … They want the governments to decide quite quickly on two states, on two nations rather than this conflict. They want it to work so they can both be separate and peaceful." (full story)
Here is a story by UPI. One on E Entertainment's website. One in the UK's Independent. And one in the Wall Street Journal. Pictures show Paul McCartney wearing the OV symbol, including on Ynet.
Wall Street Journal:
Paul McCartney Meets OneVoice Israeli Young Leaders to Promote Message of Peace:
Last update: 2:00 p.m. EDT Sept. 25, 2008
TEL AVIV, Israel, Sept 25, 2008 /PRNewswire via COMTEX/ — "What we need is peace … a two state solution."
Young Israeli leaders from the OneVoice Movement ( www.OneVoiceMovement.org) met today with Sir Paul McCartney in Tel Aviv. In support of the movement's mission – to empower ordinary Israelis and Palestinians to push for peace and a two state solution – McCartney said he would wear a OneVoice pin on his lapel during his concert later this evening.
At the meeting with executive staff from OneVoice Israel and ten youth leaders, McCartney said, "My father told me that regular people don't like wars and don't want conflict. I'm not a politician – I just want to bring a message of peace. In every place I perform I see that people want the same thing."
Yesterday McCartney also made a trip to the Palestinian city of Bethlehem, bringing his message of peace to Palestine as well.
OneVoice is a youth-led collective of Palestinians, Israelis, Americans, Europeans, and Arabs using civic engagement to push for a two-state agreement that would guarantee an end to occupation and all kinds of violence, and the establishment of an independent, viable Palestinian state at peace with Israel. Its youth leaders – 1,800+ young Israelis and Palestinians who are at the forefront of the movement's operations and activities – have met with world leaders such as Tony Blair and Martin Luther King III in the past.
Irit Admoni Perlman, Chairwoman of OneVoice in Israel, said after the meeting today, "We are excited to meet Paul McCartney, both because of our admiration for him as an artist, and his honest work in advancing and disseminating the values of peace throughout the world. He helps us all retain our hope for better, more peaceful lives."
About the OneVoice Movement:
The OneVoice Movement is an international mainstream grassroots movement with over 600,000 signatories in roughly equal numbers both in Israel and in Palestine, and 1,800 highly-trained youth leaders. It aims to amplify the voice of the overwhelming but heretofore silent majority of moderates who wish for peace and prosperity, empowering them to demand accountability from elected representatives and work toward a two-state solution guaranteeing an end to occupation and violence, and a viable, independent Palestinian state at peace with Israel. OneVoice counts on its Board over 60 foremost dignitaries and business leaders across a wide spectrum of politics and beliefs, joining as OneVoice for conflict resolution. http://www.onevoicemovement.org/
SOURCE The One Voice Movement
 http://www.onemillionvoices.org

Copyright (C) 2008 PR Newswire. All rights reserved

——————————–
Paul McCartney visits West Bank with peace message
5 hours ago
BETHLEHEM, West Bank (AP) — Pop music icon Paul McCartney said Wednesday he's carrying a message of peace for Israel and the Palestinians, rejecting criticism of his planned concert in Tel Aviv.
McCartney toured the West Bank town of Bethlehem, visiting the Church of the Nativity, built over the traditional birthplace of Jesus.
The Beatles legend ducked into the fourth-century church through its low, narrow entrance, taking pictures with a small camera on a strap around his neck. He lit two long, tapered white candles in different parts of the church, saying each time that they were "for peace."
After posing for pictures with fans of all ages outside the fortress-like church, McCartney was asked to respond to criticism from some Palestinians that his visit to Israel supports its occupation of the West Bank.
He said his visit Wednesday to the West Bank showed he was not playing favorites. "I'm here to highlight the situation and to say that what we need is peace in this region, a two-state solution," he said, referring to Israel and a Palestinian state.
"I get criticized everywhere I go, but I don't listen to them," McCartney said. "I'm bringing a message of peace, and I think that's what the region needs."
McCartney arrived Tuesday night ahead of his concert Thursday in Tel Aviv's largest park.
Four decades ago the Israeli government banned a planned concert by the Beatles, ruling that the rock group's performance could corrupt the morals of Israel's youth.
————————————
My magical mystery tour: Sir Paul McCartney's return to Israel
Last week Sir Paul McCartney returned to Israel, four decades after The Beatles were banned. Here, with comments by Sir Paul, is the pick of his portfolio. And, left, Donald Macintyre reflects on a diplomatic triumph
Donald Macintyre
Saturday, 27 September 2008
It started with an act of contrition in January when Ron Prosor, Israel's ambassador to Britain, apologised for Israel's "missed opportunity" when it banned The Beatles from the country in 1965. It ended in Hayarkon Park on Thursday night with an excited Tel Aviv audience feeling self-evidently better about themselves, thanks to a Paul McCartney trip 43 years late.
Sir Paul had prepared for the visit with an attention to detail few other superstars would have matched. It was not just the Hebrew patter he painstakingly learnt; it was also a canny ability to steer his way through the hypersensitivities of a visit that might have gone badly wrong.
He had the nous – faced with Maccamania in the Israeli press as well as official boasts of a PR coup, and denunciations by Palestinians in favour of a cultural boycott – to visit the West Bank. And he was flexible enough to take last-minute advice from the British consulate to avoid a potential demonstration clouding his planned visit to Ramallah by travelling instead to Bethlehem to visit children at a music academy named after the late, great Palestinian nationalist and intellectual Edward Said.
According to the British official who was with him when he met the children, he couldn't have handled it better. Happening on a little girl clutching a violin and close to tears from the shock of a VIP invasion, he took the instrument from her, made a horrible noise with it and told her she could obviously play it much better than he could; emboldened she began to play her piece. Unaffectedly he refused an offer of tea and cakes out of respect for the Muslim Ramadan fast.
It turns out too that the lapel badge he sported at Thursday night's concert was that of One Voice, a joint Israeli-Palestinian organisation committed to a two-state solution, and whose Israeli representatives he took the trouble to meet on Thursday afternoon.
So when on Thursday night he led a vast crowd – for Israel – in John Lennon's song "Give Peace A Chance", he had actually thought about the meaning of a message to which an audience in the most liberal city in Israel was well attuned.
When, having used the old Hebrew greeting Shana Tova to wish his Israeli audience well for the Jewish New Year next week, he added in Arabic the also venerable "Ramadan Karim", the cheers were almost as loud. Sir Paul will know well enough by now that it is not this Israel, the one on display in Hayarkon Park, that needs to be convinced by his message of peace. But it seemed mighty glad to hear it all the same.
Paul McCartney in Bethlehem, West Bank
"When I was told there was a concert in Tel Aviv I was looking forward to it. I've never been to Israel and the Beatles were banned originally, but I was conscious of the Jewish-Palestinian conflict. So I said I would like to try to come to Palestine while I had a few days … Rather than staying in England and saying 'oh yeah, too bad about that lot'. I've been here now and I'm getting a better understanding."
Inside the Church of the Nativity, Bethlehem
"I enjoyed going into Palestine. Israel's a beautiful country, driving down to Jerusalem was a great drive. Being in Jerusalem was very special just because of the history. Then going through the wall was kind of quite special, but in an edgy way. You don't like to see things like that exist in the world – it reminded me of the Berlin Wall."
Speaking to the press in Tel Aviv ahead of the concert
"My little bit is to try to bring people together through music … It seems to me that most of the people are quite moderate and would like a solution. They would like peace like most people in the world … They want the governments to decide quite quickly on two states, on two nations rather than this conflict. They want it to work so they can both be separate and peaceful."
With pupils at the Edward Said National Conservatory of Music, a school in Bethlehem
"We were due to go to a music school in Ramallah but a lot of people found out and there was a demonstration so the security people banned me from going there. We were very lucky to come here to Bethlehem to visit this music school … It's great to see the effort here. The whole policy is to bring people together through music. That's what I hoped to see when I came here. I'm really glad we didn't just turn back and stay in Israel. We came through the checkpoint and got a little idea of what's going on."
Entertaining pupils at the Edward Said National Conservatory of Music
"Kids are the same the world over so it was great to be with them and have a little bit of fun with them, just basically tell them I'm in the same boat, I was in music and we all want to live together peacefully."
At the Church of the Nativity, at Bethlehem in the West Bank
"I went to the church at the site of Jesus Christ's birth. That was great. It was very special to light a candle and just be there. It's a very special place."
Performing on stage during the "Friendship First" concert at Ganey Yehoshua Park in Tel Aviv
"I am always looking forward to gigs, particularly here, because it's been such a long time coming … music is great for people. It's good for your soul. It is a great international voice for getting people together. I can go to Russia, I can go to Israel, I can go to Palestine – everyone understands music. We all love music, so it is important to me."