Archive for the 'KIND' Category
Published under KIND
Jan 07, 2019
Published under KIND
Dec 14, 2018
As I told our team at our NY holiday party last night, what makes me so proud of the KIND Snacks team is not just what they're building, but how they are doing it. From the passion that the team brings to their work and the care that they demonstrate for one another, I feel grateful to learn from them each day.

Yesterday afternoon we closed our offices, and the entire KIND Snacks team went out to give back in their local communities. I am proud of our team, not just for taking the time to volunteer, but for the care and compassion with which they served their community members. I was fortunate to visit two organizations - AHRC New York City where we did art projects with individuals with intellectual and developmental disabilities and ACE New York Programs for the Homeless where we did interview prep. Thank you to all of our Day of Service organizations for your warm hospitality and the incredible work that you do.
Published under KIND
Aug 01, 2018
Published under Education/Raising Children, Family, Global, Innovation, Introspection, KIND, Kindness, Leadership, Life, New York City, Students, Teachers, United States
Oct 18, 2017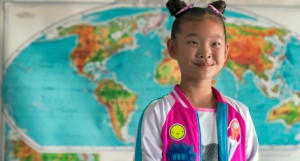 It never crossed my mind that an idea that began to take shape years ago to heal divisions among nations would be as urgently needed to bridge divides within our own country.
Today, I am proud to announce how Empatico will help address the major challenges that our nation and world face in terms of growing alienation, hatred, and the inability to listen to one another.
Fifteen years ago, as I was traveling across the Middle East and the world to build a grassroots Movement to amplify the voice of Israeli and Palestinian moderates, I was struck by a concern shared by everyone with whom I spoke. Each side felt that their people was misunderstood and mischaracterized. Tensions were at an all-time high, but it was clear that each group's desire was similar: Muslim, Christian or Jew, Arab or Israeli, secular or religious, they wanted to tell their stories and where they were coming from. They wanted to be treated with dignity and respect. [Read more →]