Elliott Gould Agrees to Give OneVoice A Hand
Adee and I met with Elliott Gould at Peet's Tea on South Beverly Drive.  Benny Levy, the sculptor and artist, introduced us to him.  Elliott is quite a fun and interesting guy, and he was clearly in sync with the OneVoice message.  He agreed to record a PSA for the OneVoice Summit.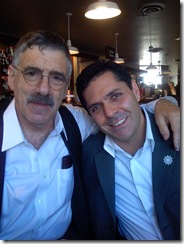 I have to confess I am a very big fan of his since, as a little kid in Mexico, I recall enjoying the movie Bob & Carol & Ted & Alice.  Can't believe I remember that.  Must have been a little nerd.
related posts
One of the greatest strengths of the OneVoice Movement is that it is made up of mainstream nationalists from each side.  The Chief Palestinian Islamic Justice, Sheikh Taysir al Tamimi, a fervent Palestinian patriot, is the equivalent in Palestine to what in Israel would be a merger between the Chief Rabbi AND the Head of [...]

Just heard from Meg Garlinghouse that Yahoo has given the green light to assertively promote and webcast the 5 locations of the OneVoice Summit on October 18th.