Secretary of State Rice Extols Citizens to Support Their Political Leaders in Forging a "Realistic Compromise"
At an event in Washington DC earlier in the week hosted by the Aspen Institute to launch the US-Palestinian Economic and Educational Public-Private Partnership, US Secretary of State Rice highlighted the role the private sector needs to play to help bring an Israeli-Palestinian agreement about.  Here is a question I asked her and her response, as transcribed by the State Department (edited to fill in the "[inaudible]" words):
QUESTION: Secretary Rice, one of the most encouraging things about Annapolis was the Heads of State' commitment to strike an agreement within a year, which demonstrated brave and courageous leadership. We're very concerned about trying to not lose that window of opportunity. The red lines from each side are pretty clear.  What is normally not said is that they're not incompatible with the red lines of the other side. So it's just about sitting down and just striking an agreement instead of endless Mideast bargaining. What can we in the private sector, business sector and the civil society and the citizens do to make sure that we really do try to accomplish an agreement within that year frame?
SECRETARY RICE: Yes. Well, let me start with what I think the broader community can do. And part of that is supporting leaders who have taken this broad — this bold choice. And I know that there's a lot of skepticism and so forth. But you know, skepticism doesn't get you anything but skepticism. That's what it buys you. (Applause.)
Sometimes you have to, against all odds, be optimistic. And I would say to populations and to citizens and to the international community as a whole, this time let's try and give a sense of optimism to these leaders who have taken these bold steps.
It is going to require, and I see — I know there are several members of the Diplomatic Corps, but I particularly see the Ambassador of Egypt is here. And Egypt was extremely helpful in the run-up to Annapolis in helping us, as was Jordan and others.
What we need to do is to say to the leaders, if you make difficult choices for peace, you are going to be supported, not criticized. People are not going to nitpick and say, well, you, Ehud Olmert, you gave up a little bit more here than you should have or you, Abu Mazen, you gave up a little bit more here than you should have. If people are willing to make tough choices — everybody is going to have to compromise. Look, there's a reason that we haven't had an agreement. And some of it has to do with unrealistic aspirations that at the last moment crashed past efforts to make agreements. That's going to require at some point people saying, all right, these leaders have made realistic compromises and we're going to support those realistic compromises.
I do think that the time that President Abbas and Prime Minister Olmert spent in their discussions on the so-called political horizon have given them a pretty good sense that there is a place that everybody could land here. And I think that's why they eventually decided to move to actual negotiations. I will tell you that two months ago, maybe even six months ago, I did not think that they were going to actually launch negotiations. I hoped they would, but I didn't think that that's where they were going. I think it's only because they've had these conversations about some of the most difficult issues that they have a feel for where the other side is. But it's going to take persistence and, again, it's going to take the — it's going to take the international community not nay saying everything that they do. (Applause.)
Walter Isaacson, the head of the Aspen Institute, did a phenomenal job at organizing the working group that aims to foster economic development and build some positive facts on the ground in parallel to the Post-Annapolis negotiations process to build momentum for an agreement.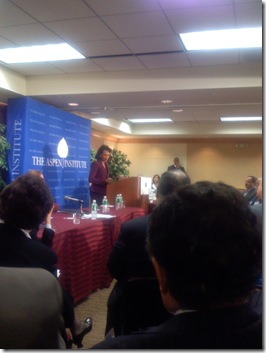 Several OV Board members were present also in this effort, including George Salem, Ziad Asali, Walid Najjab, and friends and supporters like Lester Crown.  The impressive co-chairs for the Aspen Institute's undertaking – Lester Crown, Sandy Weil, Jean Case and Ziad Asali – met with President Bush that afternoon and got his blessing and support for their efforts.
After the meeting I also approached Rice and told her about OV's work.  She mentioned she knew about OneVoice and the OneVoice Mandate that was signed by the 620k citizens and was very appreciative and emphasized it was very important work that needs to continue.