A Global Town Hall Meeting between Israelis, Palestinians and International Students
I just got this very cool invitation from Laurel Rapp, who runs our International Education Program…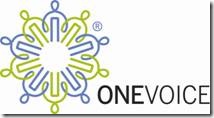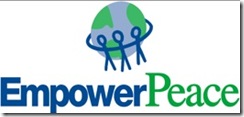 You're Invited: Global Town Hall Meeting
(webcast live to your classroom!)

Ever wonder what young Israelis and Palestinians growing up in conflict zones hope for, dream about, and are working to change?
Ever wonder what both groups are doing to end the conflict between their two peoples?  
Ever wonder what our role as citizens of the world should and can be?

If you've ever wondered and would like to know more, please join Empower Peace and OneVoice on Monday, May 19, for a Global Town Hall Meeting webcast from East Jerusalem linking Israeli and Palestinian youth leaders with students and young people from around the world.
The three Israel and three Palestinian youth leaders you'll be hearing from are youth leaders in the OneVoice Movement, a 640,000-person strong Israel-Palestinian conflict resolution organzation. Israelis and Palestinians come to the OneVoice Movement for very different reasons, but they are united in their commitment work on parallel tracks with their own communities to end the conflict and to engage people from around the world in amplifying these calls for conflict resolution.
The webcast is broadcast live over the internet and is free.  You'll be able to log on, instant message in questions, and learn about what each of us as young people–in our own communities and on the world stage–can do to help end the conflict in Israel and Palestine.
BROADCAST DETAILS:
Date: Monday, May 19, 2008
Time:  12 PM EST / 9 AM PST (7 PM Jerusalem/Amman/Kuwait, 9 PM Islamabad)
Web Address: www.empowerpeace.org
To sign up your classroom or to learn more, please visit www.empowerpeace.org or www.OneMillionVoices.org.
About One Voice Movement
One Voice Movement is a mainstream nationalist grassroots movement with over 640,000 signatories in roughly equal numbers both in Israel and in Palestine, and 3,000 highly-trained youth leaders. It aims to amplify the voice of the overwhelming but heretofore silent majority of moderates who wish for peace and prosperity, empowering them to demand accountability from elected representatives and work toward a two-state solution guaranteeing an end to violence and occupation and the establishment of a viable, independent Palestinian state at peace with Israel. OneVoice counts on its Board over 60 foremost dignitaries and business leaders across a wide spectrum of politics and beliefs, joining as OneVoice for conflict resolution.  (www.OneMillionVoices.org)

About Empower Peace
The Empower Peace Foundation is a 501 © 3 non-profit organization committed to building bridges of mutual respect and understanding between youth in the United States and the Arab and Muslim worlds.  Empower Peace uses new technologies and the Internet to provide students an opportunity to learn directly from their peers around the world.  Empower Peace's programs allow students to share their daily life, their culture, their history live over the Internet to thousands watching online.  Since its inception, Empower Peace has connected 30,000 students from 31 different countries. (www.empowerpeace.org)