A Palestinian truck packed with 4 tons of explosives rammed into the Israel-Gaza border crossing and caused an explosion that was heard 12 miles deep into Gaza and out to Israel.  By miracle or defensive design, the bomber was the only immediate casualty as the crossing includes a long tunnel that acts as a buffer (see last picture of this post).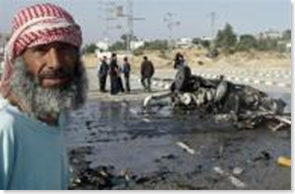 (this picture is of a getaway car that was destroyed by an IDF missile; no pictures were allowed to be taken at the checkpoint/crossing)
Given the war with Hamas in Gaza, I should not be surprised. 
But I was sobered up.  Darya Shaikh, our US Executive Director, and I were planning to be exactly where the explosion occurred the following day to meet Ezz and Mowaffaq, Palestinian Executive Directors of OneVoice Gaza.  They had not been able to get a permit to join our Board meeting, so we were going to meet at the Erez crossing to bring them up to date.  I have not gone back inside Gaza since the Hamas coup 11 months ago, but we had received permits to go through the Israeli checkpoint and meet at the end of the tunnel with Ezz and Mowaffaq.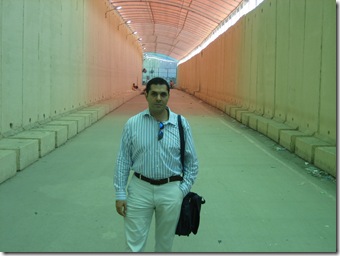 This is the tunnel between Erez/Israel and the Gaza entrance, which was targeted by the Palestinian terrorist, apparently from Islamic Jihad, a 22 year old recruited into a suicide mission.