The film-maker Jehane Noujaim dreamt a day when people across the world would see the same films, images and messages on the same day, at the
same time: Pangea Day.  She dreamt and, thanks to a partnership with TED, she acted on her dream and pulled it off amazingly.  Witnessed across the world by a growing global community of people recognizing we share universal values, here are a couple of my favorite films they showed:
Robi Damelin and Ali Abu Awwad, from Bereaved Parents Group, gave the most stirring presentation.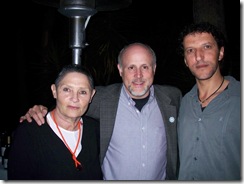 Here they are pictured with our Board member Jim Hornthal, who participated in the LA location of Pangea Day.
Rokia Traore's song was also extraordinary!
And the best thing you should try to check out is the "global heartbeat" – where drummers all across the world joined in unison across all continents in a very harmonic tribal global drumbeat.