How Popular is KIND! And how I was fooled…
Check out the below!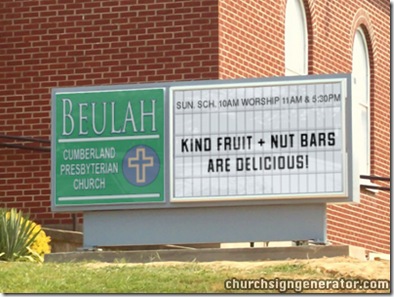 A while back I blogged about a hilarious controversy pitting two churches against each other – on the question whether Dogs go to heaven.  Each affirmed they did – or didn't – in church signs.  I actually thought these were real – and I guess a few commentators did also.
Well, it turns out I was fooled by this ultra-cool website that can help you generate Church Signs!  http://www.churchsigngenerator.com/
How creative is that?!
related posts
Only one food product was selected from among thousands at the Natural Products Expo East in Boston last weekend as the Best Product of the Year: PeaceWorks' KIND PLUS Mango Macadamia nutritional bar. Here is a report from Gourmet Retailer: The Mango Macadamia flavor of KIND Plus – the first new line of products since [...]

Just saw the provocative and extraordinary documentary, Deliver Us From Evil.  It documents the pathological institutionalization and cover-up of sexual abuse and rape of children by priests in the California Diocese of the Catholic Church. What is most infuriating is the well-documented cover up of these crimes, motivated by the desire of higher-ups to safeguard their [...]