Imagine 2018 – then make it into a reality
A year ago we conceived a project to help young Palestinians and Israelis visualize what their lives would be like ten years from now if peace were to come.  To dare them to believe, hoping this will then prompt them to invest into turning this vision into a reality.  The project, Imagine 2018, received thousands of essay submissions from students, and captivated the imagination of millions.
Now its next phase – turning children's winning essays into short films by award-winning directors – is also becoming a reality, as described in this email from Gil from OneVoice Israel. The next step is to make peace a reality.
Soldier and Boy                 Tel Aviv Damascus
Dear all,

We would like to update you that OVI had filmed the 2 short movies of the "imagine 2018" project.

There were two days of shooting : 24-25 of may.

Overall the outcomes  were beyond our expectations, since the producers and directors were very professional and organized, and they were able to recruit some of the best actors in the local market, that made this project very prestigious .we had:  Yona Elian – A very famous and respectable theater and movie  actor. an Israeli icon, Aki Avni, a very talented and well known actor. worked in LA in the past few years, Clara khoury, who played the "Syrian bride", Oshri Cohen, played a leading role in "beau for" Ali Nassaer (an Arab Israeli  actor and director) and the amazing kid , Abdallah Akkal.
On Sunday, the 24TH,  we filmed : Tel Aviv – Damascus Express . Rani Blair was the director on a terminal station that looks quite futuristic. The story was about two young people, Israeli guy and a Palestinian girl, that are going together on a bus from TA  to Damascus for the first time. One of the nice anecdotes was that the production had printed a few copies of 2018 newspaper…with articles about  "the first Israeli in Damascus" and more, so in a way our newspaper project is already included in the film ….  The production and the team were very professional and everything went according to plan.
On Monday, the 25th  we filmed: A soldier and a boy, with Aki Avni and the kid Abdallah who was just wonderful. Eran Riklis was directing this movie when the interesting thing on the set was that the Kid and Aki Avni had brought their real families to the picnic scene, in which the families of the soldier and boy meet together. It was a very natural and strong moment that made everyone excited.

We invited the two kids who wrote the original  stories and they were pretty amazed to see that their small stories became a virtual reality film.

Documenting and recruit

Josh was helping us document the "making of" including interviews with the actors, directors, 2018 kids and "behind the scenes". They all spoke about the vision of the project and how much they support it, and about ONEVOICE. The good part is that all the actors and directors agreed to join ONEVOICE , and now together with other people we recruited in the past, we are about to establish a local entertainment council, with influential Israeli artists.    
Media

So far, we got high quality media for this activity:

1. Yedioth Aeronaut- printed newspaper: a story +picture

2. Channel 2 – evening news: http://www.mako.co.il/news-channel2/Channel-2-Newscast/Article-c3a8c9b7257a121004.htm

3.

GLZ- Radio -                                                                                                                                                                                                                                                                                                                                         , להאזנה

It is important to mention that between the poll and town hall meetings, the Eurovision, the letter from Paul to Obama and now the 2018 filming, we got a lot of very positive and large media exposure. We plan to keep pushing on this front and we feel that we are in a good momentum forward. 

See some pictures from the 2 days: (if you need some in jpg let us know which ones)
A soldier and a boy
Shi the 2018 winner with Aki and Abdallah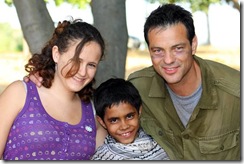 Tel Aviv Damascus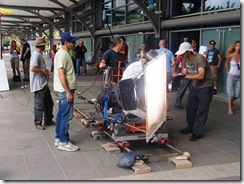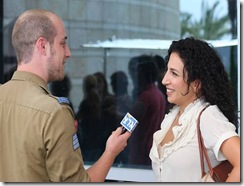 2018 newspaper