TIME Magazine names KIND/PeaceWorks as Pioneers in Social Responsibility
KIND was honored as a Responsibility Pioneer in the September 20, 2009 edition of TIME.  Richard Stengel, Managing Editor of TIME inc. described it as such:
our first list of 25 Responsibility Pioneers, which includes a range of social innovators, from individual activists and nimble nonprofits to megacorporations [includes companies like Starbucks, Gap, General Electric and PeaceWorks.]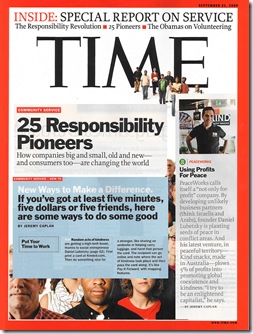 Here is the feature on KIND/PeaceWorks.
Additionally, in the same issue our new KINDED website (www.kinded.com) was featured as one of their recommended "New Ways to Make a Difference."
Responsibility Pioneers: PeaceWorks
PeaceWorks calls itself a "not-only-for-profit" company. By developing unlikely business partners (think Israelis and Arabs), founder Daniel Lubetzky is planting seeds of peace in conflict areas. And his latest venture, in peaceful territory — Kind snacks, made in Australia — plows 5% of profits into promoting global coexistence and kindness. "I try to be an enlightened capitalist," he says.
Thursday, Sep. 10, 2009
New Ways to Make a Difference
By Jeremy Caplan
…
• Random acts of kindness are getting a high-tech boost, thanks to social entrepreneur Daniel Lubetzky. First, print a card at Kinded.com. Then do something nice for a stranger, like sharing an umbrella or helping carry luggage, and hand that person the card. The recipient can go online and note where the act of kindness took place and then pass the card along. It's like Pay It Forward, with mapping features.
…