Short-Term Thinking Leads to Long Term Costs
Sometimes in business you are faced with the decision to invest up front more capital resources but ensure that over the long term you see savings, vs. save up front, but at a steady higher cost of production per widget on an ongoing basis.
The problem with choosing the path that is "inexpensive" up front is that it not only creates higher costs for the enterprise over the long haul, but it can also generate externalities (costs to society that the enterprise avoids paying).
A case in point is illustrated by this Edge shaving cream picture: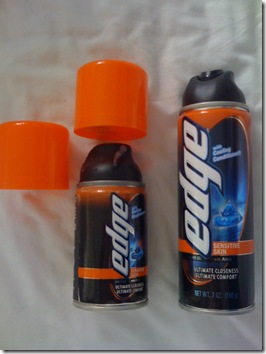 The travel-size version has less product but just as much waste in plastic on the cap and the outpouring device.
You can picture the team responsible for designing the travel-size version figuring that it made all the sense in the world to take advantage of existing infrastructure and just making a smaller bottle for travel by just cutting its height/size.
But years later and millions of cans later, so much more waste – AND COST – is generated because you are using such an inefficient means to provide a product: a fraction of the size in product but as much in caps etc.  It should not have necessarily been this way.  They could have designed a less expensive disposable version – but it would have required an upfront investment in capital.
Too bad.
A lot of "convenience" products like travel