Israeli TV Features OneVoice's 2018 Campaign
by Adeena Schlussel on behalf of Daniel Lubetzky
In a recent story, an Israeli TV channel featured OneVoice's campaign for Israel-Palestine to host the 2018 world cup.  As the story articulates, this ambition may seem just like a fantasy, but according to the philosophy of the OneVoice campaign, there is no reason why Israelis and Palestinians cannot partner to host the world cup in eight years.  The challenge remains for this fantasy to become a reality.  Watch this movie and radio interview with OneVoice's Tal Harris.
דמיינו: ישראל והרשות יארחו את המונדיאל ב-2018
לרובכם זה ודאי נשמע כמו תסריט דמיוני, אבל בארגון "קול אחד" מאמינים שאין סיבה שישראל והרשות הפלסטינית לא ישתפו פעולה ויארחו יחד את המונדיאל בעוד 8 שנים. "לשם כך צריך לפתור את הסכסוך, והכדורגל הוא כלי מצוין לכך" – אומר יו"ר הארגון טל הריס, שהפיץ סרטון בניסיון לקדם את החזון. האם הדמיון יהפוך למציאות?
חדשות 2 | פורסם 23/06/10 13:33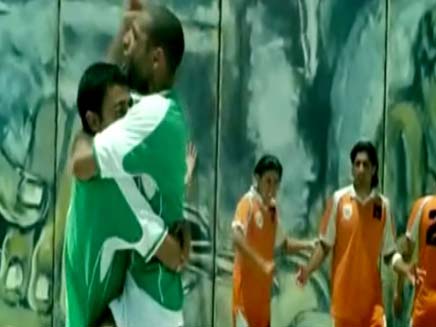 נסו לדמיין את התסריט הבא: שנת 2018, נבחרות הכדורגל הטובות בעולם עושות את דרכן לשטחי ישראל והרשות הפלסטינית שמארחות את המונדיאל – יחדיו. בארגון "קול אחד" מאמינים שהתסריט הזה יכול להפוך למציאות.
"סרטון שמופץ בימים אלה ברשת מציג שחקני כדורגל שמתחרים על תואר האלופה ליד גדר ההפרדה. את הסרטון הפיק ארגון "קול אחד" (One Voice) שפועל לפיתרון הסכסוך הישראלי-פלסטיני.
"כחלק מחגיגת המונדיאל ניסינו לדמיין איך תיראה שנת 2018 בסכסוך הישראלי פלסטיני", הסביר טל הריס, יו"ר הארגון לחדשות 2 באינטרנט. "לשם כך צריך לפתור את הסכסוך, והכדורגל הוא כלי מצוין לכך".
משיחות עם אנשים בשני צדי הסכסוך ראינו שהדמיון חורג מכל מציאות שאנחנו מכירים, ואם דרום אפריקה שסועת הקרבות הפנימיים והמתח הבין גזעי יכולה לארח אירוע כדורגל כזה, אין סיבה שישראל והרשות הפלסטינית לא יעשו דבר דומה", הוסיף הריס.
"אם לא נקדם את העתיד אחרת – הוא לא יהיה אחרת"
אם הסרטון מזכיר לכם את הפרסומת השנויה במחלוקת של חברת סלולר ששודרה עד לא מזמן בישראל, הריס מבהיר שאין שום רצון להעביר מסר פוליטי. "אם לא נקדם את העתיד אחרת הוא לא יהיה אחרת", אמר. "אנחנו לא חושבים ששלום כולל חייב להיות במדינה אחת, אלא דווקא בשני עמים שחיים זה לצד זה, ורצוי שיהיה גבול ביניהן".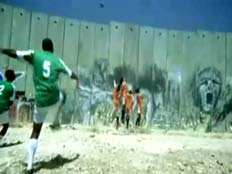 מונדיאל משותף בישראל?
"כמו במדינות רבות באירופה, נותר לנו רק לפתור את הסכסוך וזה יהיה אפשרי", אמר הריס. "בקרוב נקדם עצומה לשרת התרבות והספורט לימור לבנת, כדי לקדם את ההרשמה למונדיאל ב-2026, כי פספסנו את ההרשמה לזה של 2018".
את הקליפ יצר איתן הלר עבור התנועה "קול אחד", שפעילה מאז 2004 ופועלת בקמפוסים ברחבי הארץ במטרה לקדם פיתרון של שתי מדינות לשני עמים. "אנחנו רוצים לגרום לאנשים לדמיין את הפיתרון ולהבין את המחיר שנדרש כדי להגיע אליו", סיכם הריס. "אני מאמין שזה אפשרי".