O.B.E. Honor Awarded to OneVoice Founding Member
by Adeena Schlussel on behalf of Daniel Lubetzky
Harriet Green, a PeaceWorks Foundation/OneVoice founding member, was awarded an O.B.E in the Queen's Birthday Honours list for her service in the electronics industry.  Her talents and professionalism are only matched by her generosity and dedication that we are so thankful for.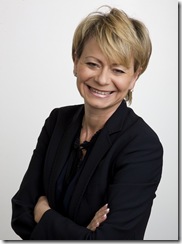 Harriet Green, CEO Premier Farnell awarded O.B.E for services to the electronics industry
12th June 2010 – London – Premier Farnell plc (LSE:pfl) - the leading multi-channel, high service distributor of products and services to millions of design engineers and purchasing professionals globally, is pleased to announce that Harriet Green, Chief Executive, has been awarded an O.B.E in the Queen's Birthday Honours list for services to the electronics industry.
Harriet's career in electronics began in 1985 when she joined the Macro Group and over the last 25 years she has developed extensive business leadership experience within the world-wide technology markets for leading intermediary businesses, including world leader Arrow Electronics, and now at Premier Farnell plc where she is CEO.  Her particular expertise has been in driving business transformation and change programmes, building successful strategies and  engaging employees globally. Harriet brings a unique perspective to global business gained from living and working on four continents, and her in-depth understanding of the fast-developing markets in Asia has been particularly valuable to her work at Premier Farnell.
Since joining Premier Farnell in 2006, Harriet has led the group through a period of strategic transformation in which it has focused on the high-margin Electronic Design Engineering sector, driven business increasingly via the web and internationalised its customer base while maintaining a strong core business in engineering Maintenance, Repair and Operations. Her innovations include the creation of a dedicated eCommunity for engineers – element14, an industry first, which celebrates its first birthday this month. More than 20% of the group's growing business now comes from the new and emerging markets, and this proportion is set to rise further in the next phase of the strategy.
Premier Farnell's industry-leading performance has continued to improve. This week, the group announced that sales in the first three months of the financial year increased by 20% , underlying pre-tax profits increased by 71% and gross margins increased for the sixth consecutive quarter. The group also set new performance targets for the next phase of its transformation, including a further acceleration of web-based services.
The establishment of close links with small and medium-sized businesses has been integral to Harriet's international strategy. She is a member of the important UK industry body, the Electronics Leadership Council, which seeks to improve the trading conditions and opportunities for the UK electronics industry by close collaboration between government and industry leaders. Harriet is also a Non-Executive Director for Fortune 200 global technology and manufacturing giant, Emerson, sits on the Peaceworks Board and is a founding member of the One Voice initiative.
Commenting on the award, Sir Peter Gershon, Chairman of Premier Farnell, said
"We are delighted that Harriet's work and significant contribution to the electronics industry has been recognised in this way. Since joining as Chief Executive in 2006, Harriet has successfully led a major global transformation of Premier Farnell. This has enabled the company not only to emerge from the economic downturn in excellent shape for the future, but also to change its whole approach to responsible business as demonstrated by the award earlier this week of Platinum status in the Business in The Community corporate responsibility index."
About Premier Farnell
Premier Farnell plc (LSE:pfl) is a leading high service, multi-channel distributor of electronic, and industrial products and specialist services throughout Europe, the Americas and Asia Pacific. It goes to market with a differentiated value proposition, with a focus on the needs of the design engineering community, driving business to the internet and internationalising its model to meet the needs of local markets, With a world-class marketing proposition, a stocked range of 450,000+ products, and access to 4,000,000 more items from 3,500 top manufacturers, and its innovative element14 eCommunity, the company had group sales in the year ended 31st January 2010 of £795.3m, and over 4,100 employees globally.
.To learn more about Premier Farnell visit www.premierfarnell.com/annualreport