KIND Healthy Grains Win Prevention's Healthy Snack Award
Prevention Magazine awarded KIND Healthy Grains Peanut Butter Whole Grain Clusters with its Healthy Food Award, affirming that KIND Healthy Grains provide a tasty snack that's good for you too! Prevention prefers Healthy Grains over other granolas because this healthy snack contains more whole grains and less fat and sugar. Editors enjoyed the crunchy peanut butter clusters with nut milk and by the handful.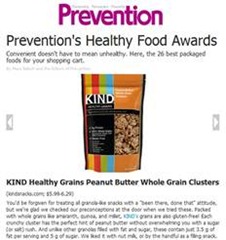 Spotted by Daniel Lubetzky, by Julianna Storch
Healthy Foods for Women: Best Packaged Food Awards 2012
Prevention's Healthy Food Awards
Convenient doesn't have to mean unhealthy. Here, the 26 best packaged foods for your shopping cart.
By Mara Betsch and the Editors of Prevention
                                                    KIND Healthy Grains Peanut Butter Whole Grain Clusters
(kindsnacks.com; $5.99-6.29)
You'd be forgiven for treating all granola-like snacks with a "been there, done that" attitude, but we're glad we checked our preconceptions at the door when we tried these. Packed with whole grains like amaranth, quinoa, and millet, KIND's grains are also gluten-free! Each crunchy cluster has the perfect hint of peanut butter without overwhelming you with a sugar (or salt) rush. And unlike other granolas filled with fat and sugar, these contain just 3.5 g of fat per serving and 5 g of sugar. We liked it with nut milk, or by the handful as a filling snack.
Read more: http://www.prevention.com/food/smart-shopping/healthy-foods-women-best-packaged-food-awards-2012/kind-healthy-grains-peanut-butter-whole-grain-clusters#ixzz1uDM382uj