KIND's Jump from Small to Big
Daniel tells Bloomberg Businessweek about making KIND go from Small to Big this week. With an obsessive commitment to quality (and a goofy smile), Daniel keeps KIND's brand promise to exceed consumers' expectations. Read the full story after the jump.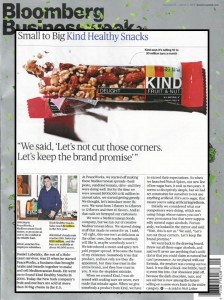 By Julianna Storch

Kind Healthy Snacks Goes From Small to Big
Daniel Lubetzky, the son of a Holocaust survivor, was 25 when he started PeaceWorks, a business that brought Arabs and Israelis together to make and sell Mediterranean foods. He went on to found Kind Healthy Snacks in 2004. Today the New York company's fruit-and-nut bars are sold at more than 50 big chains in the U.S.
At PeaceWorks, we started off making these Mediterranean spreads—basil pesto, sundried tomato, olive—and they were doing well. But by the time we were around $600,000 to $1 million in annual sales, we started getting greedy. We thought, let's introduce more flavors. We went from 3 flavors to 6 flavors to 12 flavors and then 16 flavors. And in that rush we betrayed our customers.
We were a Mediterranean foods company, but we ran out of creative Mediterranean ideas. We started doing stuff that made no sense for us. I said, "All right, this one isn't as delicious as the other ones, but maybe somebody will like it, maybe somebody won't." We introduced a sweet-and-spicy teriyaki pepper spread. It became the bane of my existence. Somebody tries that product, and not only are they disappointed, but they lose trust in the entire brand, and they lose trust in you. It was the stupidest mistake.
When we created Kind, I was obsessed with making sure we never, ever made that mistake again. When we give somebody a product from Kind, we have to exceed their expectations. So when we launched Nuts & Spices, our new line of low-sugar bars, it took us two years. It seems so deceptively simple, but we had set constraints for ourselves to not use anything artificial. If it's zero sugar, that means you're using artificial ingredients.
Initially we considered what our competitors were doing, which was using things whose names you can't even pronounce but that were supposedly natural sugar alcohols. Fortunately, we looked in the mirror and said: "Wait, this is not us." We said, "Let's not cut those corners. Let's keep the brand promise."
We went back to the drawing board, threw out all these sugar alcohols, and said we'll never use anything that's artificial or that you could claim as natural but can't pronounce. As we played with our formula, the product was coming out too hard. It was like a block—too brittle, hard to even bite into. Our obsession paid off, because the dark chocolate, nuts, and sea salt bar is now among the fastest-selling on a same-store basis in the entire category. — As told to Nick Leiber
related posts
Do the KING Thing and help to make possible the BIG KIND Act of providing new books to children from low income families across the country.  Visit www.KINDsnacks.com/world/mission to accept the KINDING Mission and get us one step closer to making the BIG KIND Act happen.  

Have you ever wondered which KIND bar flavors Daniel likes most? This foodspring interview reveals Daniel's favorite flavors as well as his other treasured culinary delights. By Julianna Storch

"The man who removes a mountain begins by carrying away small stones." -Chinese Proverb