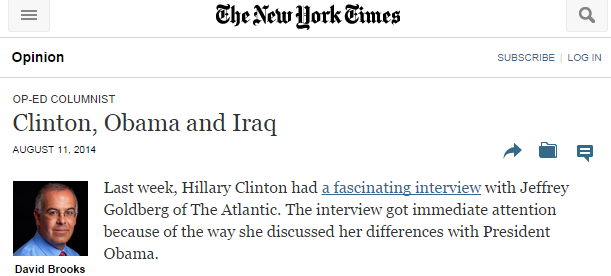 Last week, Hillary Clinton had a fascinating interview with Jeffrey Goldberg of The Atlantic. The interview got immediate attention because of the way she discussed her differences with President Obama.
While admitting that no one will ever know who was right, Clinton argues that Obama might have done more to help the moderate opposition in Syria fight the regime of President Bashar al-Assad. "The failure to help build up a credible fighting force of the people who were the originators of the protests against Assad … left a big vacuum, which the jihadists have now filled," she told Goldberg.
While showing lavish respect for the president's intelligence and judgment, Clinton also made it clear that she'd be a more aggressive foreign policy leader. "Great nations need organizing principles, and 'Don't do stupid stuff' is not an organizing principle," she said, citing Obama's famous phrase.
But the interview also illuminates the different flavors of Democratic thinking on foreign policy. We are now living in what we might as well admit is the Age of Iraq. The last four presidents have found themselves drawn into that nation because it epitomizes the core problem at the center of so many crises: the interaction between failing secular governance and radical Islam.
In her interview with Goldberg, Clinton likens the current moment to the Cold War. The U.S. confronts a diverse global movement, motivated by a hostile ideology: jihadism.
"Jihadist groups are governing territory. They will never stay there, though. They are driven to expand." This jihadism shows up in many contexts, but whether in Gaza or Syria or Iraq, she says, "it is all one big threat."
Clinton speaks as a Truman-Kennedy Democrat. She's obviously much, much more multilateral than Republicans, but there's a certain muscular tone, a certain assumption that there will be hostile ideologies that threaten America. There is also a grand strategic cast to her mind. The U.S. has to come up with an "overarching" strategy, she told Goldberg, to contain, deter and defeat anti-democratic foes.
She argues that harsh action is sometimes necessary. "I think Israel did what it had to do to respond to the rockets, " she declared, embracing recent Israeli policy. "There's no doubt in my mind that Hamas initiated this conflict. … So the ultimate responsibility has to rest on Hamas."
This tone sometimes stands in tension with the approach President Obama articulated in his West Point speech in the spring, or in his interview with my colleague Thomas Friedman on Friday.
Obama has carefully not organized a large part of his foreign policy around a war against jihadism. The foreign policy vision he describes is, as you'd expect from a former law professor, built around reverence for certain procedures: compromise, inclusiveness, rules and norms. The threat he described in his West Point speech was a tactic, terrorism, not an ideology, jihadism. His main argument was against a means not an end: the efficacy of military action.
Obama is notably cautious, arguing that the U.S. errs when it tries to do too much. The cast of his mind is against intervention. Sometimes, when the situation demands it, he goes against his natural temperament (he told Friedman that he regrets not getting more involved in Libya), but it takes a mighty shove, and he is resistant all the way. In his West Point speech, he erected barriers to action. He argued, for example, that the U.S. could take direct action only when "there is near certainty of no civilian casualties." (This is not a standard Franklin Roosevelt would have applied.)
Obama and Clinton represent different Democratic tendencies. In their descriptions of the current situation in Iraq, Clinton emphasizes that there cannot be inclusive politics unless the caliphate is seriously pushed back, while Obama argues that we will be unable to push back the caliphate unless the Iraqis themselves create inclusive politics. The Clinton language points toward some sort of intervention. Obama's points away from it, though he may be forced by events into being more involved.
It will be fascinating to see how Clinton's approach plays in Democratic primaries. (I'd bet she is going to get a more serious challenge than people now expect.) In practice, the Clinton approach strikes me as more sound, for the same reason that early intervention against cancer is safer than late-term surgery. In the Middle East, malevolent groups like the Islamic State in Iraq and Syria grow unless checked. Even in situations where our "friends" are dysfunctional, the world has to somehow check them, using a multitude of levers. Having done so little in Syria and Iraq for the past year, we can end the caliphate or we can stay out of Iraq, but we can't do both.
If you don't take steady, aggressive preventive action, of the sort that Clinton leans toward, then you end up compelled to take the sort of large risky action that Obama abhors.