Netanyahu's speech was no game-changer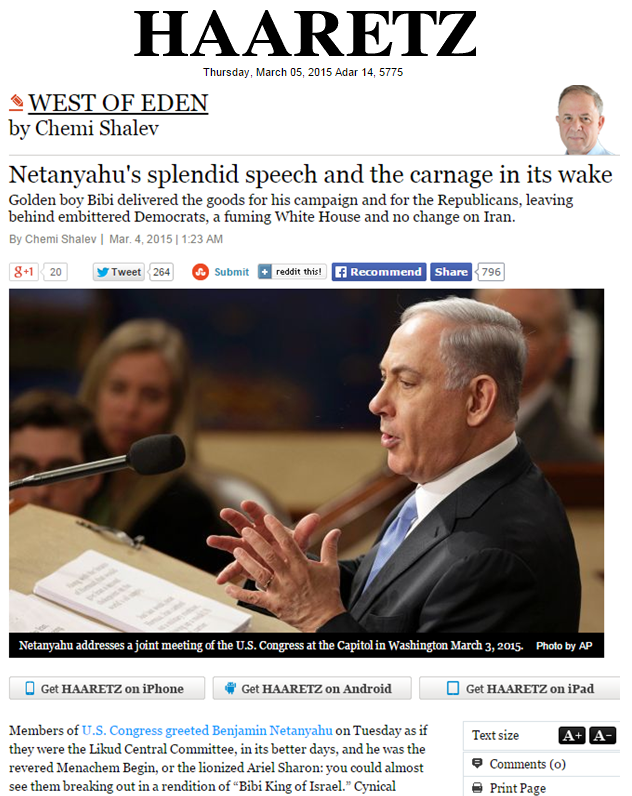 Cynical Israelis may feel they've seen it all, especially at election-time, but it's still an extraordinary experience to witness an Israeli leader being received in the legislature of the world's superpower as local hero and rock star.
Netanyahu was given a royal welcome. At times it seemed as if this was a presidential State of the Union address, but for the fact that the applause was more extended, the ovations more standing and the cheers much more enthusiastic than those accorded Barack Obama in recent years. Outside the Capitol, Washington seemed to stand still as the Congressional showdown turned into a daytime drama that attracted not only political junkies, but millions of thrill-seekers as well. In coffee shops and restaurants and on the street, ordinary people discussed the pros and cons of Netanyahu's speech as if he was an all-American boy.
The address actually started off surprisingly lame. Netanyahu seemed hesitant, his throat was parched and he needed some shots of water, a la Marco Rubio; five minutes into his address, he may have tranquilized many Iran-weary Israelis who go into a coma whenever they hear the words "Ayatollah" and "nuclear" uttered in the same sentence. But just like Susan Rice, who opened her Monday night speech at AIPAC with boundless love and shameless flattery before courageously informing her listeners that their positions vis a vis Iran were off the wall, so Netanyahu paid lip service to Obama's generous support for Israeli security and wellbeing before launching an all-out blitzkrieg on the "very bad" Iranian deal that the administration, in its naiveté if not stupidité, insists on achieving. It was, at its core, a very nasty rebuke.
Under the watchful eye of the ginger-haired Sheldon Adelson, Obama's red flag, and what has now become his regular coterie of Netanyahu cheerleaders – Elie Wiesel, Alan Dershowitz and Rabbi Shmuley Boteach of the infamous "Rice=Genocide" ad – Netanyahu steadily turned up the heat, worked his audience like the pro that he is, took his listeners from one rhetorical peak to the next oratorical pinnacle, bringing the Republicans repeatedly to their feet with boundless joy and nakhes. From their point of view, John Boehner's invitation gambit went off like clockwork, golden boy Netanyahu delivered the goods as if he was Ronald Reagan incarnate, and the White House, under its veneer of professed disdain, was obviously fuming with rage.
On the very same day that official election propaganda started to air on Israeli television channels, Netanyahu stood at the center of a campaign ad that no money could buy: filmed in one of the most exclusive studios in the world, with a cast of hundreds of top flight thespians, in the eye of an international storm, preaching against all odds for his people and against their enemies. It's not clear what effect the event will have on Israeli voters, if any, but one thing cannot be said of Netanyahu, even if he loses: that he didn't give it all he's got.
The question remains, however, what effect all of this may have on the nuclear talks with Iran, the alleged reason for the whole shebang, and at what price. Netanyahu's speech sparked an unprecedented and widespread boycott by several dozen Democratic lawmakers – including most of the party's African-American representatives as well as Massachusetts Senator Elizabeth Warren, the darling of the liberal left. Minority leader Nancy Pelosi's sour face during the speech, and her harsh verdict that it as "an insult to our intelligence" after it was over, was testament to the bitterness that the prime minister leaves behind him throughout the Democratic Party, with the possible exception of its hawkish wing.
Netanyahu didn't make any new fans in the White House, either. Despite his promise/threat to reveal new, hitherto unknown details, U.S. officials said that the prime minister's speech was a rehash of the same things that he has been telling Obama for the past two years. The officials view Netanyahu's latest moves as much ado about nothing, a rampage with no visible returns, a "destructive" move with no rhyme or reason. Netanyahu's speech probably won't divert the Iranian talks from their track but it will leave a lot of bad blood its wake – a fair price to pay, Netanyahu would probably respond, if its helps his return to power.
Nonetheless, Netanyahu's speech, superbly delivered as it may have been, was no game-changer. The ultimate decision about Iran's nuclear future still lies, as it did before, with Ayatollah Khamenei in Tehran and not with Netanyahu and Congress in Washington. If the Iranians decide to accept the proposals currently before them, it's hardly likely that its opponents in Congress would be able to face down a determined president. And if by chance they do, Iran will have an easy time accusing Netanyahu and the Jews of sabotage and this time, especially if the resulting impasse deteriorates to armed conflict, Americans might ultimately agree.
From this point of view, Netanyahu is entirely right: for Israel, it's an existential danger.