How a 7-year-old girl inspired the Red Bulls to tackle autism awareness
A beautiful piece.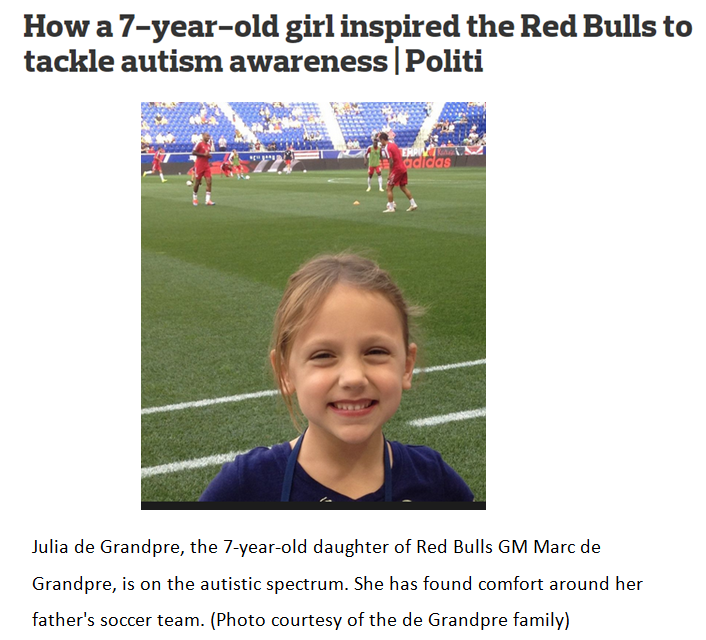 In a world that is often confusing and chaotic to her, Julia de Grandpre has found comfort around her father's soccer team.
The 7-year-old girl loves to stand and cheer when the Red Bulls score a goal, even if she has to wear sound-dampening headphones so the noise does not overwhelm her. She loves to run onto the field and hug the players that she calls "my boys," even if her mother has to take her inside during the fireworks after night games.
Julia is on the autistic spectrum, but her parents wanted to make sure she had access to everything in life that her older brother has. Since her father is Marc de Grandpre, the general manager of the MLS team that calls Harrison home, that meant access to Red Bull Arena … which, on game days, can be a challenge.
Now, as part of Autism Awareness Month, the Red Bulls will do everything possible to make their arena as inviting as possible for young fans on the autistic spectrum and their families. That includes a special cheering section for their match on April 17, and a safe zone inside the stadium for the children who need a quiet place.
"Is it going to be difficult to create a perfect environment for them? Yes," de Grandpre said, but he expects more than a thousand families with autistic children to attend the match against the San Jose Earthquakes.
This is just one event the team has planned for the month, which starts Thursday with World Autism Awareness Day. Everyone in the Red Bulls organization, from front office staffers to the players, will turn in their usual red for blue as part of Autism Speaks' national "Light It Up Blue" campaign. Even Red Bull Arena, with its video boards and LEDs, will take on a completely different look.
De Grandpre hopes the Red Bulls can be a small part of a bigger campaign that will continue to raise awareness about the mystery that is autism. He hopes the national effort will lead to more funding, more research, and among the general public, a better understanding of children on the spectrum.
"These kids can grow to be successful young adults," the GM said. "They may be a little different, but they all have something to offer. They all have some gifts within their challenges. We've just got to find that magic within them and let them run with it."
He has seen that magic in his daughter. De Grandpre and his wife, Kim, were living in Atlanta when they received a call from her preschool teacher. Julia, she told them, was spending most of the day on the periphery of the classroom, not interacting with the other children.
The parents had figured their daughter was a late bloomer and a maybe a little shy. "That's when we started to get worried," Marc de Grandpre said. "She was seeing things that she had seen with kids on the spectrum before."
De Grandpre said he daughter is an affectionate child who loves to hug, but one who "has her moments when something goes wrong and all hell breaks loose for everyone." When he returned to the Red Bulls last April for his second stint as GM, his daughter found a comfort zone around the team.
The players have helped with that, he said, with most more than willing to spend time with her — including her favorite, midfielder Dax McCarty. "She thinks Dax is in One Direction," de Grandpre said with a laugh. "Always wants to give him a kiss."
Julia will be there on April 17, ready once again to watch "her boys." This time, she'll be sitting in a section with more than a thousand kids like her, cheering for the Red Bulls at an event she helped inspire. And one, her father hopes, that will inspire others.
Steve Politi may be reached at spoliti@njadvancemedia.com. Follow him on Twitter @StevePoliti. Find NJ.com on Facebook.