Daniel Koren, the man behind the "walking contest"
I admire Koren's introspective, self-critical, and quirky sense of humor with its very human message. It is very much aligned with KIND's sense that we tend to be too afraid to stretch a hand or to crack a smile towards strangers. We need to get more comfortable invading each other's space with some human warmth.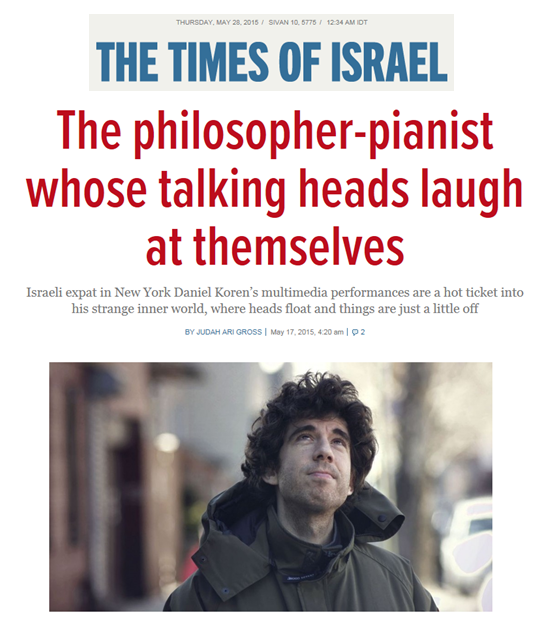 Daniel Koren likes to talk to himself. But unlike most, he gets paid for it.
Koren belongs to a budding generation of Israeli artists who are blurring the lines between filmmaking, comedy and music, and combining all three fields into one smart package.
He looks like a young John Travolta, unruly hair curling out in every direction. He's a little thinner, and his Adam's apple is more pronounced. His smile's also more crooked — more authentic.
But everything else about Koren is hard to pin down, even for Koren himself.
"My entire life I defined myself as first and foremost as a musician," Koren said. "But there were always elements of humor in my music."
"More recently," he continued, "I've started to define myself as a comedian. Then really as of late — really starting just a few weeks ago — it's 'music-comedy.'"
But Koren's roots in music are no joke. He has played piano for Juilliard and the 92nd St. Y, made an interactive music application for Shell Oil, and composed for the PBS children's program "Fizzy's Lunch Lab." He's performed in jazz ensembles. And he's also performed on LA's Comedy Central Stage.
During his multimedia performances, Koren generally sits at a piano in front of a black screen, on which is projected a pre-recorded video, perhaps of his disembodied head (sometimes more than one) floating miraculously above a tiny pair of hands and feet. Koren sings while his big-headed duplicates sing backup and occasionally interrupt, to hilarious result.
His YouTube clips have garnered thousands of views, with one even reaching half a million. Each one takes just a few days to assemble, and Koren does everything — writing, filming, editing — by himself.
"From the time that I know what I want to do," Koren explained, "writing the song — that can take a day or that can take a week. The filming — that takes a few hours. The editing is another day. But it doesn't end there."
He may add an extra second for more audience laughter, or a new joke for his floating head if the original falls flat.
"There's nothing that I've done," Koren declared, "that hasn't been changed a thousand times."
That is part of the reason he films and edits his own work.
"If suddenly I want to film my face saying 'Hey, you asshole!' I don't have to call some videographer and some editor — I just do it."
An Israeli in Brooklyn
It was freezing cold when The Times of Israel met Daniel Koren on an early spring day in New York. He was bundled in a giant green winter coat and we sat in the Blind Barber coffee shop in Williamsburg.
Koren, born in 1984 in Holon, grew up in the Neve Yam neighborhood of Rishon Lezion. Both of his parents are musicians, as is his younger brother Aviv, who appears in some of his videos. After high school, Koren played piano in the Israeli Air Force's band for his mandatory army service. Following his three-year stint in the air force, Koren entered Israel's Rimon School of Jazz and Contemporary Music.
During his first year Koren applied for and received a scholarship to study at the prestigious Berklee Conservatory in Boston. He moved there in 2006 and has lived in the United States ever since.
Now Koren lives in Brooklyn with his Brazilian wife Daniela, a former roommate. One thing, Koren explained, led to another.
Koren sees himself as something of a man without a country.
All his close friends are Israeli and he says he plans on introducing his future children to the beloved Israeli band Kaveret, known in the US as Poogy. But America is his adopted country.
Koren is uneasy about being named as part of the current generation of Israeli musicians-turned-comedians-turned-filmmakers. Though he admits he frequently works with such Israeli artists as Roy Kafri and Vania Heyman, his distance from Israeli culture makes Koren hesitant to include himself in their cohort.
"I hope I'm a part of it," Koren said, "but I've already been out of Israel for a lot more time than they have."
The trio of Koren, Heyman and Kafri regularly contributes to one another's works. Even Koren's favorite of his videos, and the one that garnered him the most recognition, "Walking Contest," was a collaborative effort with Heyman.
After the two sorted out the voice-over text, they took to the streets. There were no production teams, no over-the-top lighting rigs or rigorous shooting schedules, just two guys with a camera, an idea and a couple of friends as extras (including Kafri at 1:16 and 1:49 in the video).
"We improvised," Koren said, with a laugh.
In the video, which amassed almost half a million YouTube views and was written up all over the web, Koren talks about his propensity to start "walking contests" with random pedestrians.
Koren is incapable of casually walking alongside another person on the street, he says. The matched pace is so unsettling that he must move faster in order to convince himself that he is too busy and important to leisurely saunter next to another human being.
"Daniel," he tells himself in the video, "you are going to win this contest. You are better than him. You are busier than him. GO!"
And then, as he crosses the finish line, he thinks, "Yeah, I feel like a winner. But I also feel a little silly. What is so scary about moving together at the same speed?"
"Like there's no way I have something in common with a stranger. Not even the speed of walking."
It's funny for sure, but what exactly is the punchline?
Why is Daniel Koren funny?
When asked, Daniel Koren doesn't know why Daniel Koren is funny.
There's a famous quote attributed to E.B. White used in discussing comedy. "Dissecting a joke is like dissecting a frog," the saying goes, "any way you do it, the frog ends up dead."
"Walking Contest" is, if anything, depressing. Koren agreed.
"When I write these monologues they don't make me laugh," he said.
"I write them in order to share something that I think, and which I believe other people experience as well, and, you know, 'how crazy is that?'" Koren explained.
In another of his videos, "Turtleneck," over a jaunty, jazzy tune, Koren's on-screen duplicate sings, "I went on Amazon."
"AMAZON! AMAZON!" the real Koren echoes, screaming.
"And bought a turtleneck."
"TURTLENECK! TURTLENECK!" he shouts.
"Dawg, why you screaming?" his dismembered head asks from the screen behind him.
"I DON'T KNOW," Koren screams back at Koren, "I THINK I GOT EXCITED!"
And that is the essence of what makes Koren funny. Koren has a masterful sense of self-awareness. He brings his internal monologue outside and hilarity ensues. He puts the voice in his head on a screen in a floating dismembered head, because that's all it is: his thoughts and feelings given voice and form.
There are other songs that expose Koren's introspection but don't feature an internal monologue. His song "Tirkedi Achshav" (Dance Now!) is a fun and funky 70s Euro-pop tune. "She's into it! Totally! Dance now!" Koren sings in Hebrew. "Don't stop for a moment. Dance now!"
Koren is aware his song is corny, and its music video is even more over-the-top in its tackiness. Kitschy special effects, garish clothes, dance moves that look like they were choreographed by an 11-year-old for a summer camp talent show and some serious chromatic aberration all work together to push "Tirkedi Achshav" into the realm of the meta: It's not a song about dancing. It's a song about dance songs.
And his purely instrumental "Claudio and I" — a sort of musical battle between a piano and a vibraphone (Claudio Marquez plays the vibraphone; hence the name) — which he performed in the Berklee Conservatory's Student Composition Awards Concert, contains the same glimmer of humor. (How many instrumental jazz compositions feature a miniature airhorn?)
Funnier in Hebrew
His accented English, combined with his self-awareness, lends Koren an endearing naivete that works well with his brand of comedy. Koren described his "under construction" English as somewhat of a handicap.
"I think I'm funnier in Hebrew. In Hebrew I can impersonate different characters, different ages, different religions," he said. "In English, I only know how to do one character."
But as Koren spends more time in the States, where he intends to stay, his familiarity with American culture grows and this concern over language and accent is starting to fade into the background.
He said, however, even if his accent and Israeli mannerisms fade, "I hope the innocence will remain."
related posts
From the OneVoice newsletter: The results are in! Ø 50 Palestinian winners and 50 Israeli winners have been selected Ø Read some of the winning essays Ø Israel & Palestine to Co-Host World Cup in 2018? Check out one vision for the future · OneVoice Youth Leadership & outreach update Ø OneVoice Israeli & Palestinian [...]

by Adeena Schlussel Daniel recently received the honor of delivering the commencement speech at Trinity University. Check out his funny and insightful and advice for the graduating students in the text below! Daniel Lubetzky Commencement Speech May 14th, 2011 Let me tell you why I am terrified to be here today. The last time I [...]