Lessons for Israel's Next Disengagement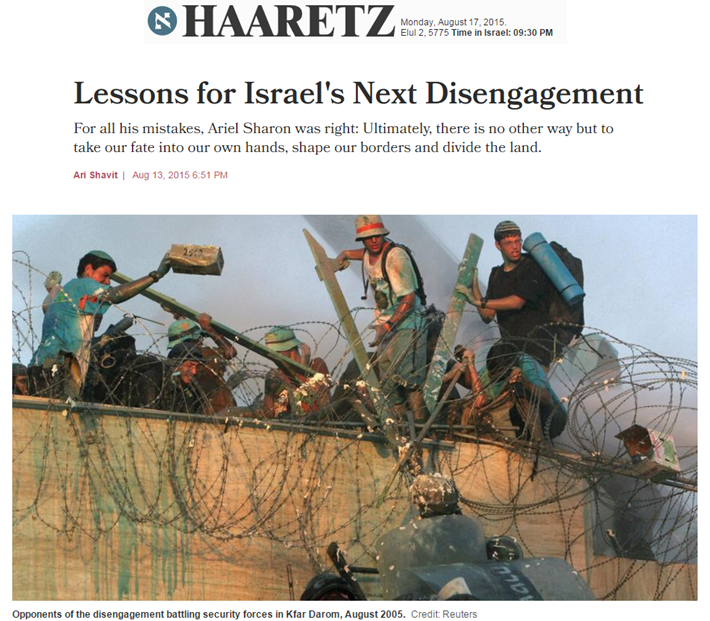 For all his mistakes, Ariel Sharon was right: Ultimately, there is no other way but to take our fate into our own hands, shape our borders and divide the land.
I spent the traumatic summer of 2005 in Gush Katif. As far as I was concerned, there was no other option. Precisely because I was one of the first to come up with the disengagement idea and supported it (with reservations), there was no doubt in my mind that when the plan was implemented I had to be with its victims.
Exactly 10 years ago I moved into Netzer Hazani and lived the last two awful weeks of the moshav. Finally I was evacuated by IDF soldiers and together with the rest of the displaced settlers I crossed the Kissufim checkpoint in a bus and went to mourn the destruction and disaster in a prayer at the Western Wall.
As an ideological partner to the decision to destroy 24 communities and evacuate 8,500 people from their lands, I felt a duty to be with those whose houses were destroyed, their communities wiped out and their world collapsed.
In the past 10 years the disengagement has gotten a bad reputation. The Palestinian response to Israel's withdrawal wasn't to establish a Mediterranean Singapore but a fanatic Hamastan, which repeatedly attacks Sderot, Ashkelon and Tel Aviv. The international response for evacuating the settlements wasn't long-term solidarity and support, but Goldstone and McGowan-Davis reports and criticism of the IDF's acts of self-defense.
The Israeli response to the unilateral move wasn't to reestablish statesmanship, create a strong Zionist center and adopt a creative, pragmatic peace process, but to empower the extremists. So the lesson most Israelis learned from the disengagement was that it shouldn't be repeated and that they'd better not try peace or dividing the country, but wallow in the warm status quo of eat, drink and launch startup companies.
But on the 10th anniversary of the disengagement, things look somewhat different. When Sderot is bustling with life, the western Negev communities are thriving and real estate lots in Netiv Ha'asara are selling like hot cakes, the situation in the Gaza-border communities doesn't look so terrible.
The Israeli military offensives in Gaza – code-named Cast Lead, Pillar of Defense and Defensive Shield – despite their horrific human cost, obtained a certain deterrence and created a kind of stability along the southern border. The IDF's power, civilian society's fortitude and Iron Dome's sophistication proved that Israel can deal with Hamastan's military threat.
But the internal threat of Yeshastan – the violent Jewish settlers in the West Bank – is one that Israel cannot deal with. Our sister Daniella Weiss is a greater danger to us today than our enemy Ismail Haniyeh. The construction frenzy in the settlements, their abominable extremism and their direct attack on democracy threaten our image, appearance and very existence. The real danger to Israel isn't from an occupied region it has withdrawn from, but from the occupied regions it hasn't withdrawn from.
Does this mean that a second, immediate disengagement can be carried out from the West Bank? Certainly not. The lessons from Ariel Sharon's mistakes are clear. First we must try diplomatic negotiations, then attempt to reach unofficial understandings with the Palestinians. The withdrawal must be placed in a broad strategic regional context and must be accompanied with a Palestinian Marshall plan and an Israeli security plan, to ensure stability and prosperity even in the absence of peace.
But all these cannot detract from Sharon's truth. Ultimately, there is no other way but to take our fate into our own hands, shape our borders and divide the land. This necessary move was and will be accompanied by considerable cruelty. But with all due respect to Reuven Rivlin's binational affability, only a strong, realistic Zionism in the spirit of David Ben-Gurion will ensure our future in this country.
It's time to return to the summer of 2005, to study its failures and our achievement – and continue from that painful point, in which the buses crossed the Kissufim checkpoint.