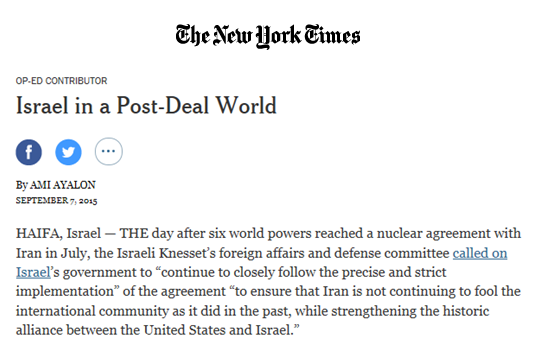 HAIFA, Israel — THE day after six world powers reached a nuclear agreement with Iran in July, the Israeli Knesset's foreign affairs and defense committee called on Israel's government to "continue to closely follow the precise and strict implementation" of the agreement "to ensure that Iran is not continuing to fool the international community as it did in the past, while strengthening the historic alliance between the United States and Israel."
In early August, nearly 70 former senior members of Israel's defense community, myself included, published an open letter to Prime Minister Benjamin Netanyahu, urging him to accept the nuclear deal as an "accomplished fact." We also called on the Israeli government to renew trust and improve "political and security cooperation" with the United States.
Those appeals — one from a committee controlled by members of Mr. Netanyahu's ruling coalition, the other representing Israel's security establishment — share the same premise: In order to act effectively on our skepticism of Iran's intentions and trustworthiness, Israel must enhance that historic alliance with America. Let the signing of the pact unite us, rather than divide us, as allies who know Iran may cheat and who, together, must be ready to stop it when that happens.
What I and my fellow signatories oppose is Mr. Netanyahu's spiteful public battle with America's president — precisely because it risks limiting cooperation in monitoring Iran. Mr. Netanyahu needs to recognize that the nuclear accord is a done deal.
He must stop fighting with the Obama administration and remove himself from the debate in Congress over the accord. Otherwise, he is jeopardizing an alliance that has been the cornerstone of Israel's security for decades, and is undermining Israel's defense. Killing the deal would kill American leadership in the Middle East, and that would damage Israel's security.
Instead of battling the Obama administration, the Israeli government must cooperate with it to face the challenges the deal presents and jointly prepare for the post-deal world. The outcome of the deal, over the next 15 years, will depend on what steps the United States and Israel take now.
The assumption in Israel is that Iran will violate the agreement, so we must not be fooled. And Americans need to recognize that the precariousness of Jewish history, not to mention the history of hostility to Israel in the region, means that Israelis have real and legitimate fears about Iranian intentions.
Rather than fighting the accord, our government should cooperate with the United States, and other members of the international community, to raise our level of intelligence about Iran. The International Atomic Energy Agency's monitoring is not sufficient. To obtain the best information, we need the highest degree of intelligence sharing. That simply can't take place if our two governments are feuding.
The United States and Israel must also prepare for a day when they find out that Iran has violated the agreement. To respond effectively to a violation with economic, diplomatic and military actions, our planning should involve not only America and Israel, but also the Europeans, as well as our neighbors in the Middle East — like Egypt, Jordan and Saudi Arabia — that consider a nuclear-armed Iran a threat.
To provide real deterrence, we must prepare a viable military option. Israel and the United States both concluded that such an operation was not advisable before the negotiations. The reason it would be viable now is precisely because the West has already used economic sanctions, diplomacy and good-faith efforts to make the deal work. If Iran were now to violate the agreement, military strikes against Iran's nuclear facilities would be seen as a legitimate measure.
Most important, we must ensure that any such action would have broad assent that included our Middle Eastern neighbors. Military action must be a justified international response to Iran's violation, and not construed as America's defending Israel.
It's easy for politicians to sow fear among Israelis, but for Israel to flourish, its government must strike a balance between analyzing realistically the threats it faces and detecting opportunities. That balance is what Mr. Netanyahu lacks. He's skilled at exploiting threats to get re-elected and stay in power, but he's not so good at finding ways to reduce dangers with the least possible loss of life. Good leadership entails both.
Regrettably, Israel's opposition leaders also fail the leadership test, in the mistaken belief that challenging the prime minister's actions over the Iran negotiations will cost them electoral success.
There is one more issue facing Israel, on which both Mr. Netanyahu and the opposition have failed to provide leadership, and on which American-Israeli and regional cooperation are also essential: the Palestinian question, which both the Israeli government and opposition have swept under the rug.
A pragmatic coalition of Sunni states is an essential part of the international challenge to Iran, both when it violates the nuclear agreement and when it foments terror and instability in the region, with its support for Hezbollah and other proxies. For the United States to create such a coalition, and for Israel to belong to it, Israel must show progress on the Palestinian issue.
This is also a litmus test of American leadership: Can the United States bring Israel into a plausible process toward a resolution based on two states? If it cannot, crafting the coalition to check Tehran would be next to impossible.
We Israelis have to understand that diplomacy plays an important role in our region. And the American government must realize that a viable military option is an indispensable tool in today's Middle East. By preparing for that, President Obama would go a long way toward allaying the fears among Israelis that drive arguments here against the nuclear deal with Iran.
Ami Ayalon is a former director of Israel's domestic security agency, a former commander of the Israeli Navy and a co-founder of Blue White Future, a nonpartisan organization that advocates a two-state solution.