Jerusalem Post Israel News: The empathetic change-maker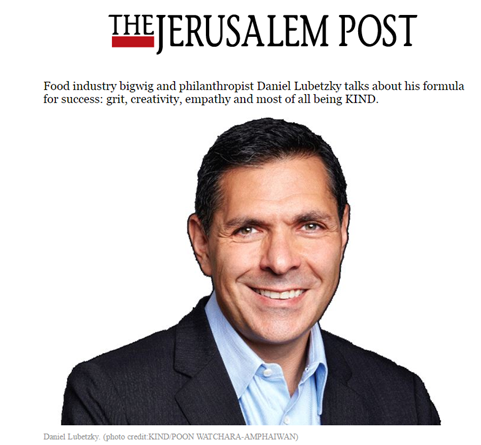 Daniel Lubetzky wasn't even  a law-school graduate yet, but he already had a clear path to success laid out for him. In 1994, he was offered a full time job at the elite Sullivan and Cromwell law firm after graduating from Stanford Law School.
But Lubetzky turned down the offer, crushing every Jewish mother's dream, and decided to develop a line of Dead Sea beauty products made by Israelis and Palestinians.
He wanted to be an entrepreneur. But, most importantly, he wanted to be an entrepreneur who did good.
His goal was fostering "economic cooperation between conflict-torn peoples as a way to help them get to know one another, create an incentive to build a shared future, and achieve peace," he wrote in his book, Do The KIND Thing, which was released last year.
It was the first example where he employed his "and" philosophy when it came to business: That it's possible to combine elements which seem to be diametrically opposed if you come about it in a creative way.
That philosophy is at the root of his KIND bar franchise – a snack that is both healthy, easy to eat and tasty.
Since its launch 12 years ago, KIND bars are sold in over 150,000 stores and the franchise is "the fastest growing health company in the United States," Lubetzky said in an interview in Tel Aviv last month.
But it wasn't a smooth blast to the top, as Lubetzky notes in his book, which comes off as an instruction manual for every entrepreneur who feels they may have lost their way. He speaks of wrong turns, false starts and just plain faulty decision-making behind both KIND and one of his other ventures, PeaceWorks, which fosters economic cooperation between Israelis and Palestinians. Its flagship brand Meditalia, which is a line of Mediterranean culinary spreads, made by Israelis, Palestinians, Egyptians and Turks.
Despite it all, Lubetzky's dedication to creating quality products with a positive social message prevailed, mostly thanks to his upbringing.
A Mexican American who eventually moved to Texas, Lubetzky was heavily influenced by his father Roman, who survived the Holocaust in Dachau, Germany.
He attributes his father and grandfather's ability to remain kind even in the face of the nadir of humanity as what ultimately saved his family, and he has vowed to uphold those values as an adult and businessman.
For those who have never sunk their teeth into a KIND bar, the snacks are comprised of whole fruits and nuts and packed in a transparent wrapper. A customer doesn't just taste an almond, he sees that almond.
So when the company boasts of "products you can see and pronounce," they mean it.
KIND is proud of its several social initiatives such as KIND People, which will award a $100,000 prize to five winners who have "gone out of their way to help others in need," according to their website. The competition will also award a $500,000 prize to a 6th winner, totaling $1mm in prizes. An influential panel of judges including Seinfeld's Jason Alexander, Huffington Post founder Arianna Huffington, Twitter founder Jack Dorsey and others are set to determine the winners.
Lubetzky, of course, has also dedicated much of his career to the Israeli-Palestinian conflict and altering the trajectory of Israeli politics in general.
As the founder of OneVoice, which defines its mission as amplifying the voice of mainstream Israelis and Palestinians, Lubetzky's connection to Israel is a strong one.
"Israel for me represents so much more than a nation," he asserted. "It's a very idealized example for the world. It's not just a nation that needs to be strong, secure and safe. For me, for the sake of humanity, Israel needs to be a light that is an example to all nations. I'm not going to give up on those principals, and I think it's good to hold ourselves up to the highest of standards."
During the last Israeli election, Lubetzky became embroiled in controversy when he and another American entrepreneur, SlimFast's S. Daniel Abraham, were cited as donors of Victory 15 an organization that launched an "Anyone But Bibi" campaign.
In his sit-down with The Jerusalem Post, Lubetzky didn't quite distance himself from the organization but did state that the media wildly exaggerated his involvement in launching V15.
"I'm very non-partisan. I don't consider myself loyal to any party in Israel," he clarified. "Politics is by its nature not my favorite thing, because it's more about dividing people, not bringing them together."
As a moderate, Lubetzky said he favors any politician dedicated to his main passion: building bridges between disparate people.
He gave a shout out to outgoing Foreign Affairs Ministry director-general Dore Gold as someone who is doing just that.
"There are people in this government that I respect and adore like Dore Gold, he's truly one of the greatest servants of Israel," he said. "He doesn't get enough credit and he's fighting the fight every day. We don't agree ideologically, but his selflessness I support 100%."
Lubetzky has been a vociferous opponent of the Boycott, Divestment and Sanctions movement since day one. "I've been fighting BDS before people even knew that BDS existed," he said. "We are the No. 1 target of BDS. One Voice and PeaceWorks are threats to BDS and the best tools to undermine [it]."
Lubetzky believes the movement consists of extremists that could easily be vanquished if Israel and the Diaspora had a more efficient game plan to combat them. "[BDS supporters] don't want a solution between Israelis and Palestinians; BDS wants to destroy Israel and replace it with a greater Palestine," he said. "But we're only playing defense, we're not playing offense."
His life story proves Lubetzky is not a man who gets discouraged easily. So whether it be combating BDS, bringing Israelis and Palestinians together or using his KIND empire to further enrich the community, he will work tirelessly to find creative and KIND solutions.