I got to kick off my week with a visit with the Empatico team. In case you're not familiar with it, Empatico, an initiative of The KIND Foundation, is a new free tool for teachers to connect their classrooms with other classrooms around the world. It is the most important thing that I've been involved in founding because it has the potential to impact tens of millions of children. Through Empatico interactions, kids learn how to celebrate what they have in common as well as their differences. Armed with the tools to work with people who are different from them, these kids will be better off – but moreover, our world will be a better world. I'm so proud of what this team is building, and they're just getting started.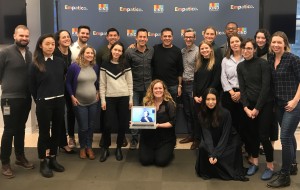 related posts
It never crossed my mind that an idea that began to take shape years ago to heal divisions among nations would be as urgently needed to bridge divides within our own country. Today, I am proud to announce how Empatico will help address the major challenges that our nation and world face in terms of [...]

I'm super excited to introduce our new KIND Kids™ Bars. It's hard to top my excitement about KIND Snacks launches, but I think my kids have me beat on this one.