Weighing a big decision? Here's what experts say about when to go with your gut or your rational brain—or some combination of both.
By Elizabeth Bernstein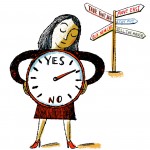 You have an important decision to make. You've done research, made a list of the pros and cons, asked friends and family for advice.
When should you just trust your gut?
Scientists, authors and motivational speakers (plus plenty of moms) have long touted the power of intuition—our mind's ability to understand something without the need for conscious reasoning. Think of all the recommendations you've heard: "Put the problem away and come back to it later." "Intuition doesn't lie." "Sleep on it."
Many studies support this advice, showing that the decisions we make unconsciously, before our rational mind can get involved, are often better. But not always. [Read more →]