Tony Blair Reaffirms Support for OV in Davos
David Levin, chair of the OneVoice International Steering Committee, arranged for us to brief Tony Blair in Davos, following his meeting with our youth leaders a couple months ago.  He was very impressed with our youth leaders and expressed his commitment to help us advance our mission of empowering the voice of ordinary citizens that want to achieve a two state solution.  He agreed to meet with our activists later in the year, and to help us on a couple of other fronts.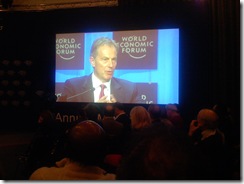 Later that day, he moderated a session with Palestinian Prime Minister Salem Fayyad, and Israeli Foreign Minister Tzipi Livni, President Peres and Defense Minister Barak.  He spoke of the importance of empowering moderate voices, as did Tzipi Livni and PM Fayyad.