Malaka and Shani Complete So.Cal OV Tour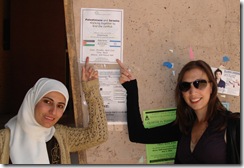 Malaka Samara and Shani Gershon just completed a OneVoice Tour to Southern California – one of six regional tours with young Israeli and Palestinian OneVoice activists completed over this last year by Laurel Rapp, International Education Program Coordinator.
Neither of them had ever met someone from the "other side" before, so they did not just impact the hundreds of people they spoke to but also
completely impacted each other.
Malaka, 29 years old, had never been out of Palestine.  She is from Tulkarem and her Dad, a farmer who was injured in the intifadah, had to sell his land in order to put his 10 children through college.  Malaka's brother is 16 years old and in prison.  Malaka said "OneVoice is the biggest hope, for myself and my people.  This trip was a dream – to come to the United States – to be able to share my story and my hopes and aspirations for peace."  Prior to this trip, Malaka had never met Jewish people and was uniformly suspicious of all Israelis.  This time she even attended a Passover seder.
Shani Gershon came from a totally different background, with both Israeli-born parents but raised in both Canada and Israel, yet having never met a Palestinian before.  She explained that prior to joining OneVoice, she hated all Arabs, and never wanted to know them as she considered them all as the "irreconcilable enemy." 
Laurel explained this was one of the more challenging tours because of the disparate socio-economic backgrounds between Shani and Malaka.  They took the opportunity to ask one another some very difficult questions, not always satisfied with the position of the other, with plenty of differences and different narratives, but recognizing the only way to move forward is by building consensus for a two-state solution.
They spoke at colleges, high schools, temples and mosques in San Diego, Poway, Pomona, Los Angeles, and other places in Orange County, and had several TV interviews, including this one on the web, and articles like these in the UCLA Daily Bruin, the Occidental, and the UCSD Guardian.
Many students spoke about their challenges to carve out space "in the middle" when dealing with the conflict and committed to start OneVoice chapters in their schools.
The professor of a class at UC Irvine, Paula Garb, said that OneVoice's visit and presentation inspired her to continue to work to bring students together on campus. As a result of last year's IEP tour, staff and students began "The Olive Tree Initiative," a joint Jewish-Arab group on campus.