Powerful posters: capturing the conflict in pictures
by Kim Walker on behalf of Daniel Lubetzky
OneVoice teamed up with students at Tirtza Grannot [the Academy of Commercial Communications] in Tel Aviv to create moving visuals that address many of the key issues in the Israeli-Palestinian conflict. The best 40 were then exhibited and a winner was chosen. The winning poster is below, and the tagline says, "People Are Dying. To End The Conflict."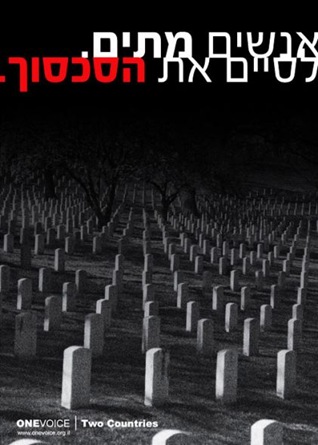 Israel and Palestine, in Posters
Two nations, one voice, as seen through graphic design student projects.
By | Mon May. 10, 2010 10:50 AM PDT
---
[1]
Continue to the Next Photo [1]
Earlier this year, the OneVoice Movement—a grassroots organization that aims to magnify the voices of Israeli and Palestinian moderates—teamed up with design students at Tirtza Grannot [the Academy of Commercial Communications] in Tel Aviv for their final year projects. OneVoice's goal: Create a series of posters to address some of the most crucial issues in the Israeli-Palestinian conflict.
For several months, the graduating design students produced posters on such topics as the one-state illusion, the settlements, and the futility of protracted military action. Then 40 of the best posters were chosen for a special exhibition held in Tel Aviv, where 200 invited guests attended the unveiling and voted on their favorites. The winning poster was created by Israeli Arab student Isa Khalifa, who depicted an iconic image of a cemetery with the tagline, "People Are Dying. To End The Conflict." The entire project was picked up in both the Israeli and Arabic press, and since then the posters have been on a rolling exhibition at universities across Israel and at OneVoice Town Hall meetings in Israel and Palestine.
These posters represent a lively and sometimes surprising discussion of thinking at the ground level. They are an unfiltered sampling of the kinds of voices that are regularly drowned out by the actions and inactions of leaders, extremists, and the media.
About the OneVoice Movement:
The OneVoice Movement is an international mainstream grassroots movement with over 600,000 signatories in roughly equal numbers both in Israel and in Palestine, and 1,800 highly-trained youth leaders. It aims to amplify the voice of the overwhelming but heretofore silent majority of moderates who wish for peace and prosperity, empowering them to demand accountability from elected representatives and work toward a two-state solution guaranteeing an end to occupation and violence, and a viable, independent Palestinian state at peace with Israel. OneVoice counts on its board over 60 foremost dignitaries and business leaders across a wide spectrum of politics and beliefs, joining as OneVoice for conflict resolution. Learn more by visiting www.OneVoiceMovement.org [2].
---
Source URL: http://motherjones.com/politics/2010/05/israel-palestine-posters
Links:
[1] http://motherjones.com/politics/2010/05/israel-palestine-posters/02
[2] http://www.onevoicemovement.org/